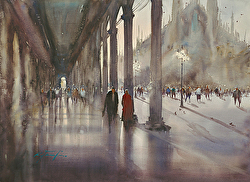 Duomo, Milan, Italy V
Milan has been one of my favorite cities in the world ever since I first made a visit a long time ago as a student. Little did I know then that I might be back for a wonderful exhibition/workshop opportunity one day.
Immagini dell'Acqua, the 40th anniversary international watercolor exhibition organized by the Associazione Italiana Aquarellisti (AIA), opened its doors to the public on October 2. It was a huge honor that I was able to be present there on the opening day, which was a full house, as an invited guest artist of the AIA. The exhibition demonstrates excellency and brilliance of transparent watercolor works of the AIA members as well as selected works of members of the participating watercolor associations from around the world. Including Duomo, Mialn, Italy V, I have 4 original paintings on display in the show: Masquerade, Venice I, Winter Morning, Venice, Italy I and Sorrento, Italy VI.
For days following the opening, I also had the pleasure of doing live demonstrations for the public and teaching workshops. I would like to say thank-you to the AIA and everyone who came to my demos/workshops.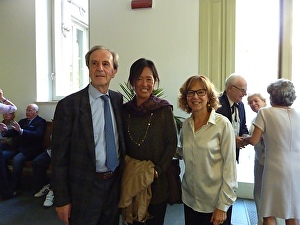 Opening reception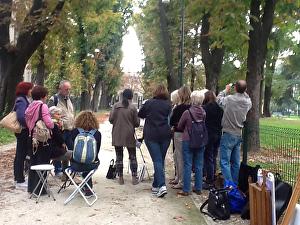 Workshop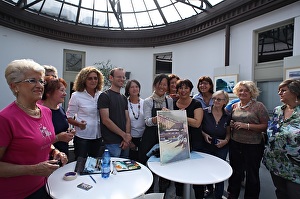 Workshop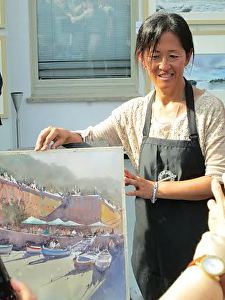 Demonstration
Exhibition
(Photos courtesy of the AIA, Patrizia Sambri, Guido Tosi, Emmanuele Cammarano, Ros Perucchini)
Duomo, Milan, Italy V
Media: Original watercolor on paper
Image Size: 21.5 x 29.5 inches (55 x 75 cm)
Frame/Mat: No
Purchase: Please send me an email for details.
- Join me on Facebook and follow my blog on NetworkedBlogs.
- Follow me on Google+.
- Follow me on Twitter.
- FASO Artist Websites - Easy, Professional Art Websites for Artists who Sell
Comment on or Share this Article →
---
---
---
---
---
---
---
---
---
---
---
---
---
---
---
---
---
---
---
---
---
---
---
---
---
---
---
---
---
---
---
---
---
---
---
---
---
---
---
---
---
---
---
---
---
---
---
---
---
---
---
---
---
---
---
---
---
---
---
---
---
---
---
---
---
---
---
---
---
---
---
---
---
---
---
---
---
---
---
---
---
---
---
---
---
---
---
---
---
---
---
---
---
---
---
---
---
---
---
---
---
---
---
---
---
---
---
---
---
---
---
---
---
---
---
---
---
---
---
---
---
---
---
---
---
---
---
---
---
---
---
---
---
---
---
---
---
---
---
---
---
---
---
---
---
---
---
---
---
---
---
---
---
---
---
---
---
---
---
---
---
---
---
---
---
---
---
---
---
---
---
---
---
---
---
---
---
---
---
---
---
---
---
---
---
---
---
---
---