About nine years ago, I started out both as a plein-air painter and as a studio artist. As a watercolorist who paints in both environments, I have come to realize that there are unique qualities in each type of work.
A painting done on location is my direct response to the landscape. I attempt to capture the whole experience of being there. For that purpose, I need to concentrate intensely to work fast. I so enjoy getting absorbed in the environment when the inspiration cannot be any fresher. As a result, the painting may look looser, more simplified or sketchy, and perhaps more impressionistic.
Sometimes I may not completely finish the work outdoors because I feel it's already served a purpose. Or sometimes I just have to quit because of unexpected elements such as a sudden change of weather. Certain challenges and limitations that come with working in the great outdoors may make the end result rather hit-or-miss. Regardless, any work I do outside has certain qualities that I really like. The atmosphere and energy of the place is captured in the raw if I may put it that way.
En plein air, I like to use the paper size smaller than 18x24 inches (46x61cm) and spend less than an hour to complete a piece. The format of a studio painting, on the other hand, can be larger so the work tends to be a bit more controlled and detailed. In the studio, especially when there's no time contraints, I can take time to plan my approach to the subject. I can even make some preliminary compositional work to think out my process and try to eliminate, if any, potential problems beforehand. I can say there is probably a bit more room for creativity to be explored in the studio while the plein-air work is more direct and intuitive.
When I work in the studio, sometimes I use my plein-air sketch as a source of reference. It can be supported by photos or memory but to me a plein-air sketch probably works best to remember the feel of the place. In fact, it is really the initial idea or inspiration captured in the plein-air work that is important. Starting from there, I can think more about overall composition and relationships of colors, values and shapes to retell an original story, hopefully, in a more refined manner.
Read related posts: here (Bucharest, Romania) and here (Venice, Italy) and look at some of the examples from Italy below. If you're interested in painting in the beautiful region of Tuscany, Italy, why don't you join me there in May? My watercolor painting workshop at the Watermill was fully booked but has just recently one spot opened up. I look forward to meeting you there!
"Firenze, Italy I" (29x21 cm) - plein air
"Firenze, Italy IX" (55x36 cm) - studio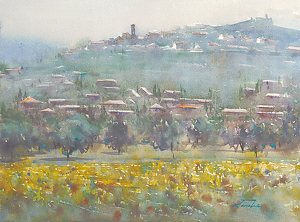 "Cortona VIII" (29x39 cm) - plein air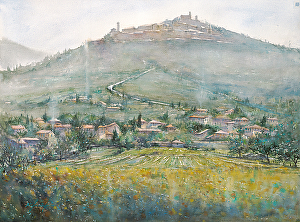 "Cortona, Italy X" (55x75 cm) - studio
- Join me on Facebook and follow my blog on NetworkedBlogs.
- Follow me on Google+.
- Visit my gallery at Daily Paintworks.
- Follow me on Twitter
- FASO Artist Websites - Easy, Professional Art Websites for Artists who Sell