One of the oldest and most famous cafés in Lisbon, Portugal, Brasileira was a travel destination in and of itself. During a stay in Lisbon, I wanted to head for this café first. I could feel anticipation building high as I looked for this place.

The minute I walked in, I was dazzled. The Old World atmosphere of this historic café made me want to paint it right away. The interiors were filled with charm of Art Deco style - decorative chandeliers, mirrors on the walls, a long dark oak bar, checkered floor tiles, etc.

I was intrigued to see how lights coming from the ceiling and the back of the café bounce off the floor and the mirrors to illuminate other furnishings and people inside.

I would have been quite a nuisance if I had tried to paint right there so I took several photos. Most of them turned out a bit too blurry but the mood of the place was captured. The first sight of this scene made such an unforgettable impression on my mind. So my memory also aided me a great deal when I was painting it.

The painting process of Lisbon Cafe VI was largely emotion-driven rather than based on careful planning. Working mostly in wet-in-wet, I let the paints run into each other and had fun letting shapes emerge.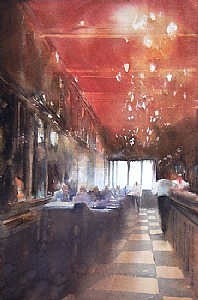 This painting recently received the second place award in the 34th Annual Western Federation of Watercolor Societies Exhibition. It is currently on display in the exhibition which is hosted by the San Diego Watercolor Society this year. The show runs from May 1 through May 31. Juror was Robert Burridge (Click here to see award-winning paintings).


Lisbon Café VI

Click here for a larger image of "Lisbon Café VI" painting.

Media: Original watercolor on paper
Image Size: 21 x 14 in.
Mat/Frame: Yes
Frame Size: 28 x 22 in.
Purchase: Sold


I did this preliminary painting before I made Lisbon Café VI.



Lisbon Café V

Lisbon Café V

Media: Original watercolor on paper
Image Size: 18.5 x 6.5 in.
Mat/Frame: Yes/No
Mat Size: 24 x 11.5 in (color: off-white)
Purchase: Sold