---
---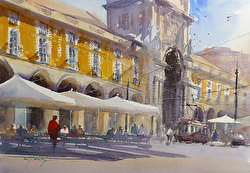 Plaça do Comércio, Lisbon, Portugal I
For plein-air painters, there's always a possibility (or a risk, depending on how you look at it) of attracting onlookers when working outside. I have painted in many places in the world and in many different weather conditions. No matter where, I have had some kind of contact with others who were interested in what I was doing. Most of the time, they are nice, decent people who just wanted to see what I was making. I almost never had very unpleasant experience as they would just stay by my side, quietly watch and leave. But sometimes they would say something along the line of "that's nice that you're doing" or start a bit more in-depth conversation. I am not entertaining but working so I wouldn't go into a lengthy conversation but in general I wouldn't mind exchanging a few words.
The largest audience I had was in China where I was surrounded by dozens of children just coming home from school. Typical onlookers are local people who live nearby or tourists (many would want to ask me for directions or take a photo of me and my painting) or artists (I can tell by what kind of words they use). I also remember seeing or chatting with policemen, a soldier, a rock star, a gondolier, a homeless person, a psychic, etc... oh, yes, I had one of these people, who was a little too enthusiastic, when I was painting on the Praça do Comércio.
Plaça do Comércio, Lisbon, Portugal I

Click here for an enlarged view of this painting.
Media: Original watercolor on paper
Image Size: 13 x 19 inches (33 x 48 cm)
Frame/Mat: No
Purchase: Please send me an email for details.
- Join me on Facebook and follow my blog on NetworkedBlogs.
- Follow me on Google+.
- Visit my gallery at Daily Paintworks.
- Follow me on Twitter
- FASO Artist Websites - Easy, Professional Art Websites for Artists who Sell
Comment on or Share this Article →
---
---
---
---
---
---
---
---
---
---
---
---
---
---
---
---
---
---
---
---
---
---
---
---
---
---
---
---
---
---
---
---
---
---
---
---
---
---