In and around Auvers-sur-Oise, a small community in the northwest suburb of Paris (30km), we can still see the same landscapes 19th-century Impressionist artists painted.

But it was probably Vincent Van Gogh that many of us are likely to associate this town with as he spent his final days right here. When he arrived here in 1890, already sick, he was treated by Dr. Gachet, the town's physician. But, as a painter, he was extremely productive and it is said that he made more than 70 paintings in the course of two months.

I had an opportunity to visit Auvers last year to walk in the footsteps of Van Gogh. For many visitors who are like me, the town made it easy by setting up signs for us to follow so as not to miss all important spots.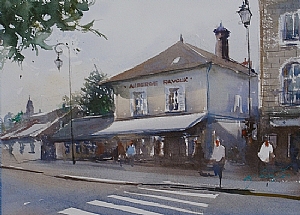 Auvers-sur-Oise II (available)


On the main street (Auvers III), there is Auberge Raboux (Auvers II), perhaps the most emotional place of all. Van Gogh was renting a room here for 3.50 francs per day. He took his last breath in Room 5 on July 29, 1890, with his brother Theo by his side, leaving what's believed to be his last words, "La tristesse durera toujours."

I was more moved, however, when I stood in the lonely wheat field, on the edge of town (Auvers I), where "Wheat field with crows," one of his last paintings, was created. The cemetery where Vincent and Theo rest side by side is just next to this place.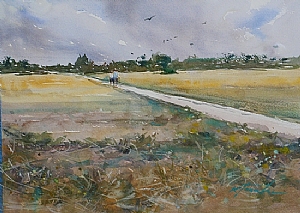 Auvers-sur-Oise I (sold)


For more information about Van Gogh's last months of his life in Auvers, take a look at this well-researched, very informative website.


My favorite Van Gogh quotes:

I dream of painting and then I paint my dream.

If you hear a voice within you saying, ''You are not a painter,'' then by all means paint… and that voice will be silenced.

How can I be useful, of what service can I be? There is something inside me, what can it be?

Poetry surrounds us everywhere, but putting it on paper is, alas, not so easy as looking at it.

Paintings have a life of their own that derives from the painter's soul.



Auvers-sur-Oise, France I; Auvers-sur-Oise, France II; Auvers-sur-Oise, France III
Click here for an enlarged view of "Auvers-sur-Oise III.

A larger image of "Auvers-sur-Oise II" is available on request.

Media: Original watercolor on paper
Image Size: 8.25 x 11.5 in. (on 9 x 12 in. paper)
Mat/Frame: No
Purchase: Please send me an email for more information.