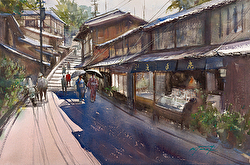 Road to Kiyomizudera Temple, Kyoto II
The air is hot and sticky. The late afternoon sky often threatens thunderstorms. With each passing day it gets more unbearable to stay indoors without an air-conditioner as the temperature soars. Outside ladies are walking with higasa (parasols) and in yukatas, more casual summertime kimonos.
In quiet back streets, the sound of wind chimes brings back childhood memories. Traditional Japanese confectioneries around town are displaying minazuki, triangular-shaped sweets eaten only in June. And people crave for hamo (pike eel), a seasonal delicacy popular in the western part of Japan. And, this muggy weather sends me to my favorite tea room for big scoops of green-tea ice cream. Welcome to the summer in Kyoto. I am home.
Road to Kiyomizedera Temple, Kyoto, Japan II
Media: Original watercolor on paper
Image Size: 14.25 x 21.5 inches (36 x 54.5 cm)
Frame/Mat: No
Purchase: Temporarily unavailable. Please send me an email for details.
- Join me on Facebook and follow my blog on NetworkedBlogs.
- Visit my gallery at Daily Paintworks.
- Follow me on Twitter
- FASO Artist Websites - Easy, Professional Art Websites for Artists who Sell
Comment on or Share this Article →
---
---
---
---
---