A few days ago a friend who lives in Aiguillon took me to the top of a hill behind a small village of Nicole. Just before the sunset on an unseasonably balmy day, the view from there was stunning. I could see the town of Aiguillon far down below, the vast valley where it lies and the two rivers, Lot and Garonne, which meet near the town.
I felt blessed to be able to spend a marvelous week in Aiguillon, in southwestern France, to participate in the 7th International Festival of Watercolor as invited guests of honor with French artists, David Chauvin and Sonia Privat.
The exhibition is represented by 50 international watercolor artists and French colleagues. The October 18 opening was well-attended not only by many of the exhibiting artists but also by friends and fans of watercolor. In the following days I did a 3-day watercolor course for my students who came from different parts of France. I also had the pleasure of doing a live demonstration for the public in the auditorium.
The exhibition runs until November 2 in three different venues in the town of Aiguillon. For more information, visit this link.

Opening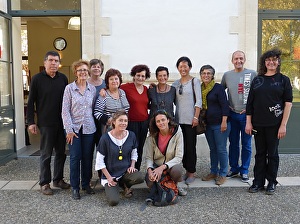 My workshop group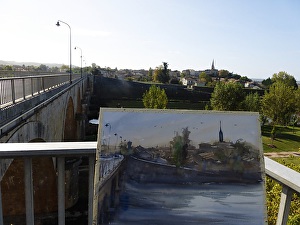 Plein-air painting
A View of Aiguillon, France II
Media: Original watercolor on paper
Image Size: 19 x 23 inches (48 x 58 cm)
Frame/Mat: No
Purchase: Sold
- Join me on Facebook and follow my blog on NetworkedBlogs.
- Follow me on Google+.
- Follow me on Twitter.
- FASO Artist Websites - Easy, Professional Art Websites for Artists who Sell