Recently I wrote a blog post about my workshop experience in southern Spain - how a lunchtime is taken rather seriously over there. Another country where lunch is enjoyed with vigor is France. I have taught quite a number of workshops in this country. I have found the time they take for lunch may not as long as in Spain but on many occasions lunch is a sit-down ritual, starting with a serious look at the menu and ending with a plate of various kinds of cheeses and/or incredible sweets. Bottles of wine are also a common sight on the table. Even if we don't go to a restaurant, we picnic or have a potluck with the same level of intensity.
I did this painting as a workshop demo at the Bandouille in France after I saw this lady in red, sipping coffee in the corner of a café, when my students and I had lunch there. The café was aptly named Café des Arts, and I absolutely loved the atmosphere inside. I often call my workshop "Capture Light and Atmosphere in Watercolor" as a general theme. As it implies, to me, what is more important to capture in my work is a particular visual concept such as the passage of light and a certain mood.
Next summer, July 27 - August 2, I am happy to be returning to the Bandouille, a renovated monastery/farm house in a small village of Chiche (Poitou-Charentes), France, to teach a 5-day workshop. For more details and registration, please visit France Painting Holiday. If I get lucky, we may have a chance to go to this café once again.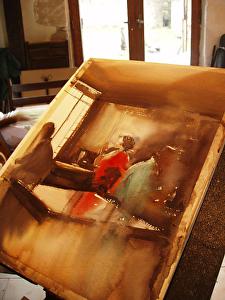 A workshop demo, Café des Arts, Thouars, France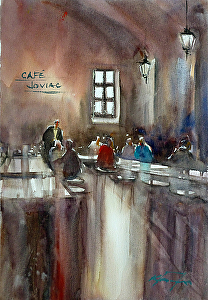 A workshop demo, Café Joviac, Rochemaure, France (19"x13")
Café des Arts I

Media: Original watercolor on paper
Image Size: 11.5 x 15.5 inches (29 x 39 cm)
Purchase: Sold
- Join me on Facebook and follow my blog on NetworkedBlogs.
- Follow me on Google+.
- Visit my gallery at Daily Paintworks.
- Follow me on Twitter
- FASO Artist Websites - Easy, Professional Art Websites for Artists who Sell