---
---


Pointe du Chevet
This painting is one of the demonstrations I did in my recent workshop in Brittany. Pointe du Chevet is at the tip of the peninsula near Saint-Jacut-de-la-Mer on the Emerald Coast of Brittany, France. As seen in the photo (below), the view we had from there was stunningly beautiful, and the weather couldn't have been better, either. Both my students and I were so eager to take advantage of this one fine day to paint outdoors.
When we arrived there, the tide was low, exposing much of the mud flat in front of us. Damp mud glistening in the sunlight, instead of the calm water, made the landscape look more interesting to paint - and challenging. Challenging, because every time fast-moving clouds covered the sun (and it happened every 5-10 minutes), that changed tonal values of the scene completely. I must say that must have driven my students crazy. In my workshop, I stress the importance of painting with values rather than colors, and then they were trying to deal with it when in fact the values changed every 10 minutes. Nonetheless the time we spent there was very pleasant.
While painting, we noticed down on the muddy ground some people walking and a tractor traveling to and from the mussel beds that were built a couple of kilometers from the coast. Later on, my students and I had the pleasure of tasting local mussels, one of Brittany's prized delicacies. They were a little smaller than what I am used to seeing elsewhere but so sweet and juicy. A day in the sun ended perfectly.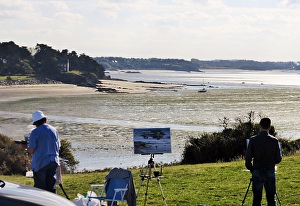 My students hard at work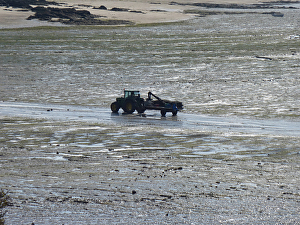 A tractor on the mud flat
I put together my paintings and plein-air sketches (2013) of Brittany and made a book "Bretagne - Breizh - My Watercolor Journey Through the Land of the Celts in France." Click this link for more details.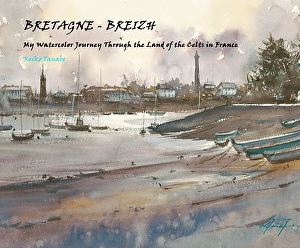 Pointe du Chevet, Saint-Jacut-de-la-Mer, France I
Media: Original watercolor on paper
Image Size: 8.5 x 23 inches (21 x 58 cm)
Frame/Mat: No
Purchase: Through Gallery
- Join me on Facebook and follow my blog on NetworkedBlogs.
- Follow me on Google+.
- Follow me on Twitter.
- FASO Artist Websites - Easy, Professional Art Websites for Artists who Sell
Comment on or Share this Article →
---
---
---
---
---
---
---
---
---
---
---
---
---
---
---
---
---
---
---
---
---
---
---
---
---
---
---
---
---
---
---
---
---
---
---
---
---
---