---
---
---
---
---
---
---
---
---
---
---
---
---
---
---
---
---
---
---
---
---
---
---
---
---
---
---
---
---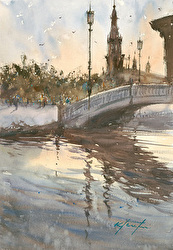 Sevilla, Spain IX
"En Andalucía me siento como en casa"- so I was quoted in the recent interview by a journalist from InSevilla, a digital newspaper of cultural events in Seville, Spain (April 29, 2013). The article of my interview was just published in time for my watercolor workshop there. Clearly the interviewer was someone knowledgeable of watercolor painting and there were very good questions.
The interview was made possible by my dear friend María José Barrera Garrido, an artist and a teacher who is well respected widely in Seville and its surrounding region. She is having a watercolor painting exhibition in May at Plaza de Armas in the city of Seville.
Since the original article is in Spanish, here are their questions and my answers in English that appeared in Keiko Tanabe, acuarelas universales:
InSevilla: In this course (referring to my workshop) you deal with three principal objectives: atmosphere, light and shadow. Are these keys to a good watercolor?
Keiko: When I'm inspired to paint something, what attracts me most is the quality of light and atmosphere in the subject. I believe that fluidity of the medium of watercolor is perfect to capture that. In my course, I teach some methods and techniques useful for this effect. To me, a good watercolor painting is, first, one that shows the artist's full grasp of the medium, and second, one that resonates with the emotions the artist wanted to communicate. A good painting doesn't have to be impressionistic.

InSevilla: Generally watercolor painting represents realistic landscapes. Do you think it could be used as well to paint expressionist art, like dreams, nightmares, less figurative art?

Keiko: Of course. In fact, I always think that a painting, in any medium, should speak something about the artist's emotional truth. Whether it's a realistic landscape or a spiritual abstract painting, an artist should be aware of his inner voice and create a work that transcends a mere depiction of the subject.

InSevilla: Many people say light in Seville and Andalusia is different. Do you agree with that? What different features do you see?

Keiko: It's so strong and intense that the play of light and shadows often creates a scene that is full of passion and drama. I only know Andalusia in the summertime so the light may be different in other seasons. In San Diego, California where I live, I see some similarities in the weather, architecture and other cultural aspects, so I feel at home in Andalusia.

InSevilla: Do you think watercolor painting is valued as it deserves? It seems it is like a second-level art compared to oil on canvas.
Keiko: In general, that's how it's been perceived in many parts of the world, as I understand. However, that traditional view may soon be regarded as outdated. Today, largely thanks to the internet, the world is discovering more than ever many watercolor paintings of high quality. I am hopeful that will change the general perception of the medium and raise the level of watercolor paintings as a whole.

InSevilla: Basically, what are the pro and cons of watercolor painting versus other techniques?

Keiko: Watercolor is relatively low maintenance because it is portable, odorless and dries fast. For this reason, it may be best suited to do quick sketches with on location. Technique-wise, its characteristic of being rather unforgiving may restrict the creativity of an artist. It may result in having to do careful planning prior to painting. I feel, however, watercolorists should try to enjoy the process without worrying too much about the result or even take advantage of its elusiveness.

InSevilla: Who are the best watercolor painters now and which artists do you like? Any Spanish painters?

Keiko: There are many watercolor artists from the past and the present whose methods and styles have inspired and influenced me along the way. I especially admire artists whose work evokes emotions as if they were soulful music or exciting drama: John Singer Sargent, Robert Wade, Mary Whyte and Alvaro Castagnet, to name a few. As for Spanish artists, not really a watercolorist but Joaquín Sorolla's works attracted me very much for his figures draped in light. In watercolor, Laurentino Martí and Manolo Jiménez are among my favorites. I also want to add that I liked many works exhibited by Spanish artists in the Muestra internacional de acuarela Ciudad de Dos Hermanas (2012).

InSevilla: What is a big mistake that beginner watercolorists should avoid?

Keiko: It is often said that watercolor is the most difficult medium to handle, and that may be true to some degree. First of all, I would like to tell beginners not to be discouraged by it because it is also very rewarding. But before learning how to control the fluidity of the medium, I see some beginners needing to spend more time learning how to see things and how to draw. In my course, I always stress the importance of developing a solid drawing skill and the ability to see perspective, contrast and spatial relationships.

InSevilla: Anything else you would like to say?

Keiko: I am looking forward to coming back to Sevilla soon and sharing the joy of watercolor painting with local artists. Thank you for your time.
Sevilla, Spain IX

Media: Original watercolor on paper
Image Size: 19 x 13 inches (48 x 33 cm)
Frame/Mat: No
Purchase: Sold
- Join me on Facebook and follow my blog on NetworkedBlogs.
- Follow me on Google+.
- Visit my gallery at Daily Paintworks.
- Follow me on Twitter
- FASO Artist Websites - Easy, Professional Art Websites for Artists who Sell
Comment on or Share this Article →
---
---
---
---
---
---
---
---
---
---
---