---
---
---
---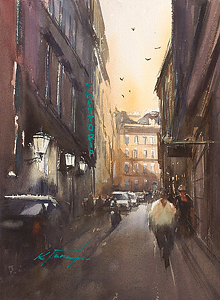 Roma, Italia XXXVI
Not being formally trained in art and not being afraid of creative experimentation are like two sides of the coin. I don't mean it in any offensive way, however, because anybody who creates art embraces the freedom to experiment regardless of their background.

But for those (including myself) who didn't go to art schools to learn what they teach, ignorance may be bliss in order to gain experience by trying new things without worrying about do's and dont's (or grades?). Of course, without proper guidance, that could easily mean lots of bad paintings and a sense of failure but there's always much to gain if we're willing to learn from experiments.

When I begin a new painting, I have an image, or a certain mood in my mind that I will want to have achieved when I finish. So with that in mind, I attack a piece of paper. I must admit I'm not good at making plans and sticking to them but would rather go with the flow, and the same goes for my paintings.




After putting in simple drawing, I still don't have definite plans on how to go about painting to the finish. But whatever inspiration I had at the outset, I let it loose and see what it wants me to do. This is what this painting looked like after the initial stage. At this stage, I usually get a feeling whether it's going to work or not. However, from my limited experience, I know that it can be deceiving. So even if the feeling is negative, I push on to complete it and am sometimes pleasantly surprised to see the result.


Roma, Italia XXXVI


Media: Original watercolor on paper
Image Size: 11.5 x 8.25 inches (29 x 21 cm)
Mat/Frame: No
Purchase: Sold

Click here to see other paintings of Rome, Italy.
Comment on or Share this Article →
---
---
---
---
---
---
---
---
---
---
---
---
---
---
---
---
---
---
---
---
---
---
---
---
---
---
---
---