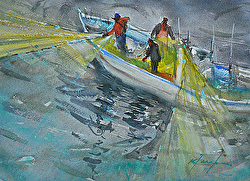 Kiritappu, Hokkaido, Japan I
From the top of the cliff at Cape Kiritappu in eastern Hokkaido, I could see several fishing boats bobbing in rough water. As its Japanese name implies, the area around here is often foggy but on the day I was there it was mostly clear - only freezing cold.
On a small boat three fishermen were hard at work but I couldn't tell what was caught in their nets. No matter what, their catch must have been of excellent quality. Hokkaido, Japan's nothernmost island, is surrounded by the three oceans and has the most fertile fishing grounds in the country. Salmon from there, among others, is no doubt the best in Japan. If you get a nice cut of salmon next time, eating this dish originally created by Hokkaido fishermen will make you feel like you're there (recipe courtesy of Powderlife).
Kiritappu, Hokkaido, Japan I

A large digital file available on request.
Media: Original watercolor on paper
Image Size: 8.25 x 11.5 inches (21 x 29 cm)
Frame/Mat: No
Purchase: Please send me an email for details.
- Join me on Facebook and follow my blog on NetworkedBlogs.
- Follow me on Google+.
- Visit my gallery at Daily Paintworks.
- Follow me on Twitter
- FASO Artist Websites - Easy, Professional Art Websites for Artists who Sell
Comment on or Share this Article →
---
---
---
---
---
---
---
---
---
---
---
---
---
---
---
---
---
---