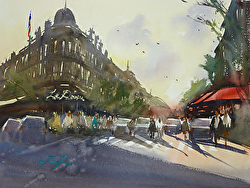 Demo, Paris street scene
I had the pleasure of spending some time yesterday together with members and guests of the Huntington Beach Art League (HBAL) who invited me to do a demonstration for their September meeting. It was quite an honor for me, as a watercolorist, to do a watercolor painting demo to an all-media art group such as the HBAL as they kick-start their fall season.
I did a demo, showing my process from the beginning to the end, of a street scene with corner cafés in Paris. I painted this subject from my previous plein-air sketch, and I did so in response to the request of the majority of the group members present at the meeting.
I was also honored to judge their September exhibition prior to my demo. I must say judging a show of a wide range of artwork (oil, acrylic, watercolor, pastel, photography, mixed media and ceramics) was quite challenging, especially when there was a large number of submissions and some really good ones in each category.
I would like to thank the HBAL for their kind invitation and hospitality, and everyone who came to watch my demonstration! It is always a joy to demonstrate in front of a room full of artists and people who are as enthusiastic as yesterday's crowd.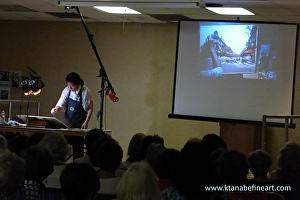 Demonstration, Huntington Beach, California
Cafés, Montparnasse, Paris, France

Media: Original watercolor on paper
Image Size: 17 x 23 inches (43 x 58cm)
Frame/Mat: No
Purchase: Sold
- Join me on Facebook and follow my blog on NetworkedBlogs.
- Follow me on Google+.
- Follow me on Twitter.
- FASO Artist Websites - Easy, Professional Art Websites for Artists who Sell
Comment on or Share this Article →
---
---
---
---
---
---
---
---
---
---
---
---
---
---
---
---
---
---
---
---
---
---
---
---
---
---
---
---
---
---
---
---
---
---
---
---
---
---
---
---