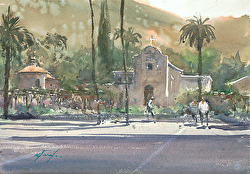 La Jolla Blvd.
"California has been my home for nearly half of my life, and I have spent the majority of the time in San Diego. California's southernmost city holds a special place in my heart, for it was here that I made a life-giving career change and became a full-time painter. The abundant beauty of my 'adopted' home has been the inspiration for many watercolor scenes since I started painting in 2005. Thanks to San Diego's mild climate, I have become an avid plein-air painter and quite often I can be found traipsing its nooks and crannies on a quest for a new setting to paint."
I said this in my latest book "PAINTING SAN DIEGO: 100 Plein-Air Watercolors of San Diego Landscapes" (published June 2014). Even after the book project was completed, I still live up to my words and go out to paint whenever I have a chance at home.
"La Jolla Blvd.," another one of those quick outdoor sketches I so enjoy doing, is from a couple of weeks ago to depict warm summer light of Southern California. For something like this, I usually spend less than an hour from the beginning to the finish. I often get asked what would be a good way to learn how to paint quickly or loosely. Speaking from my experience, I can say it is very helpful if you try often working outside and painting from nature. I believe, through an intimate conversation with nature, you will develop an ability to capture the very essence of what you see and what inspires you.
I am happy to announce my new 3-day weekend workshop in Southern California (Westminster, CA, February 20-22, 2015). This class will be conducted indoors but, in my demonstrations, I will show my thought process as if I am painting outdoors. If you're interested in attending or have any questions on my workshop, please contact Catalyst.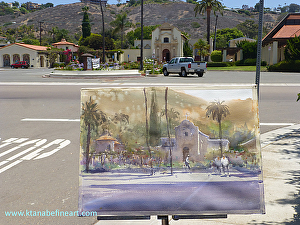 Painting on location, La Jolla Blvd., San Diego, California
La Jolla Blvd.

A larger digital file available on request.
Media: Original watercolor on paper
Image Size: 13 x 19 inches (33 x 48 cm)
Frame/Mat: No
Purchase: Please send me an email for details.
- Join me on Facebook and follow my blog on NetworkedBlogs.
- Follow me on Google+.
- Follow me on Twitter.
- FASO Artist Websites - Easy, Professional Art Websites for Artists who Sell
Comment on or Share this Article →
---
---
---
---
---
---
---
---
---
---
---
---
---
---
---
---
---
---
---
---
---
---
---
---
---
---
---
---
---
---
---
---
---
---
---
---
---
---
---
---