Stunning, dramatic, surreal... I don't know if any words can describe the amazing landscapes of karst terrains near Guilin. Some of the peaks look like animals while others look like giant cacti or jagged teeth. And these towering mountains are evreywhere - some stand alone right in the middle of a town and others out in the countryside.
Between Guilin and Yangshuo, boats take visitors on a cruise on the Li River which meanders through these mountains. To see this very unique landscape, people come here not just from all over China but from all over the world as well. Yangshuo receives about 20 million visitors each year.
Artists immediately respond to such a magical landscape combined with the often misty atmosphere and very rustic scenery in the surroundings. Needless to say, this region has attracted artists for centuries. I met a Chinese woman who told me that some lucky Chinese artists rent a place to stay for a month just to paint the sceneries around here. A month would be a dream for me but even just once an experience of painting in the nature in a place like this is truly unforgettable.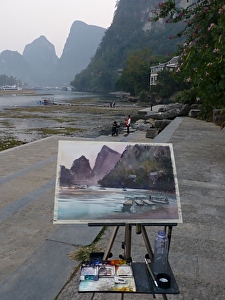 Painting by the Li River
Li River, China II (14"x20")
Li River, China I
A large digital file available on request.
Media: Original watercolor on paper
Image Size: 8.25 x 11.5 inches (21 x 29 cm)
Frame/Mat: No
Purchase: Please send me an email for details.
- Join me on Facebook and follow my blog on NetworkedBlogs.
- Follow me on Google+.
- Visit my gallery at Daily Paintworks.
- Follow me on Twitter
- FASO Artist Websites - Easy, Professional Art Websites for Artists who Sell