I love being with other artists. I love sharing my creative passion. I love painting California landscape. In the workshop I just finished in Orange County, California, I got to do all these things for three days.
For a full house of 18 students, I did 2 demos each day in a room filled with enthusiasm. Painting light and atmosphere of California landscape being the theme of the workshop, we did a harbor scene, a downtown street , an outdoor café, a mission and a desertscape. Everyone worked so hard and we felt like we had just finished a whirlwind tour of California by the end of the course.
I would like to take this opportunity to thank all of you who attended my workshop!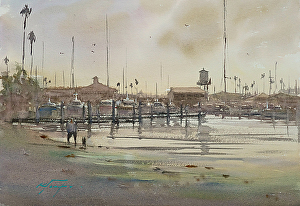 Sunset Beach, California I (sold)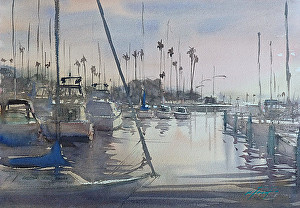 Alamitos Bay, California II (sold)
Sunset at Alamitos Bay, California I
Media: Original watercolor on paper
Image Size: 17 x 23 inches (43 x 58 cm)
Frame/Mat: No
Purchase: Sold
- Join me on Facebook and follow my blog on NetworkedBlogs.
- Follow me on Google+.
- Follow me on Twitter.
- FASO Artist Websites - Easy, Professional Art Websites for Artists who Sell.