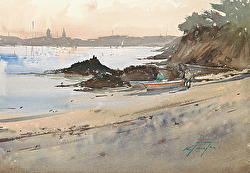 Dinard, France II
Years ago when I visited Dinard in the height of summer, I gave up going to this beach simply because it was so crowded with holiday makers and I couldn't find a parking spot. But last month when my workshop students and I went there, there was no one except a few locals enjoying a quiet stroll by the water. I thought I came to a different beach.
In front of us was a vast stretch of sandy beach, the calm blue ocean, the town of Dinard on the left, the skyline of Saint-Malo in the far right. It was almost too good to be true to be able to keep such a spectacular view all to ourselves. The whole ambiance was so inviting my students and I couldn't wait to get to work. Even the sun was cooperating and peeked through clouds to warm us up on a cool autumn morning. But then again, it might have been our enthusiasm that kept us warm.
I liked the view on my right as the formation of rocks there was interesting and the light coming from behind was quite attractive. I chose that for my first demonstration, which was followed by my students trying their hand at my approach. After a lovely picnic lunch on the beach, we found ourselves painting by a chateau nearby. What a beautiful day we had!

Beach in Dinard, France - There was a "painting" in every direction!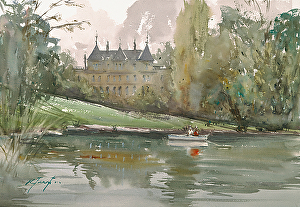 My second demo by Château de bord de mer, Dinard (Sold)
Dinard, France II

A large digital file available on request.
Media: Original watercolor on paper
Image Size: 13 x 19 inches (33 x 48 cm)
Frame/Mat: No
Purchase: Please send me an email for details.
- Join me on Facebook and follow my blog on NetworkedBlogs.
- Follow me on Google+.
- Follow me on Twitter.
- FASO Artist Websites - Easy, Professional Art Websites for Artists who Sell
Comment on or Share this Article →
---
---
---
---
---
---
---
---
---
---
---
---
---
---
---
---
---
---
---
---
---
---
---
---
---
---
---
---
---
---
---
---
---
---
---
---
---
---
---
---