---

Benson's, Bonita Springs, Florida I
To me, traveling for a workshop often means arriving there just in time, getting the job done, and packing up to go home. Especially in the U.S., I rarely have extra time to do anything else. However, my workshop organizers and participants alike sometimes go out of their way to show me around their neighborhoods. In the region called the American South, I have done several workshops in the past few years. And in each place I was a happy recipient of the Southern Hospitality from people I worked with.
In Tulsa, Oklahoma, the gallery staff took me straight to the Philbrook Museum of Art that's housed in a historic villa, after a busy day of painting. A student from the same Tulsa workshop then showed me around the downtown Tulsa just before the sun set. In Dallas, Texas, a student came from Louisiana with a lot of photos of her favorite spots in her state. Her vivid description and visual images of one particular spot moved me so much I asked her to let me do a demo from her photos as reference. In Bonita Springs, Florida, an old male student, a long-time resident of the area, spent lunch time each day telling me about the history, geography, and life in general that he knew so well. He also knew that I wanted to see the real life of the people there. He strongly recommended I visit a town of migrant workers. I'm glad I did. These short glimpses into their personal lives make my workshop-related travels so special.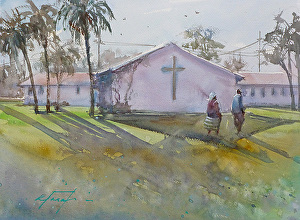 Immokalee, Florida I (11.5"x15.5")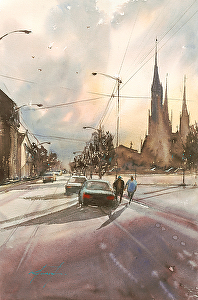 "Tulsa, Oklahoma I" (21.5"x14.25")
"Thibodaux, Louisiana I" (13"x19")
Benson's, Bonita Springs, Florida I

Media: Original watercolor on paper
Image Size: 15.5 x 11.5 inches (39 x 29 cm)
Frame/Mat: No
Purchase: Please send me an email for details.
- Join me on Facebook and follow my blog on NetworkedBlogs.
- Follow me on Google+.
- Visit my gallery at Daily Paintworks.
- Follow me on Twitter
- FASO Artist Websites - Easy, Professional Art Websites for Artists who Sell
Comment on or Share this Article →
---
---
---
---
---
---
---
---
---
---
---
---
---
---
---