Wearing a starkly white mariner's jacket, black trousers and a straw hat, they proudly do their job of rowing a sleek gondola along the canals of Venice, Italy. There are reasons why they look so proud, one of which may be because becoming a gondolier is not an easy thing to do (read related post).

Here's how I painted the 6th of my Venezia series. Sometimes people ask me if I use masking fluid. My answer is no; I don't even have any. I try to leave the white of the paper for highlights, but if I lose it, that's fine. I gently scrub the paint off or use white paint later!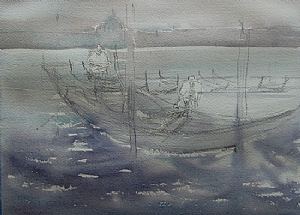 First, I work the part above the horizon line, and then on the foreground.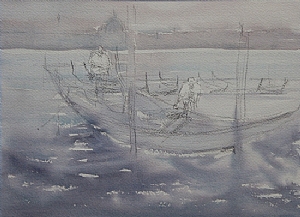 Colors look a lot lighter when the first wash is dry.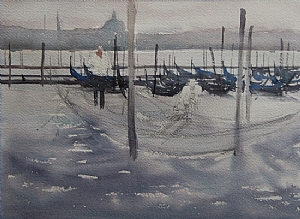 Paint in all the gondolas by trying not to look at them individually.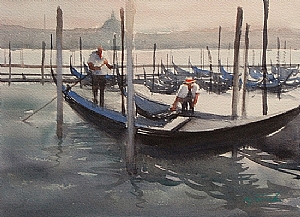 Finished.

Venezia VI

Media: Original watercolor on paper
Image Size: 8.25 x 11.5 in.
Mat/Frame: No
Purchase: Sold