« San Diego 100 (#45) - Torrey Pines State Beach, California Landscape Painting | Main | Paris Café XXIV (Le Dome), French Landscape Painting »
Wearing a starkly white mariner's jacket, black trousers and a straw hat, they proudly do their job of rowing a sleek gondola along the canals of Venice, Italy. There are reasons why they look so proud, one of which may be because becoming a gondolier is not an easy thing to do (read related post).

Here's how I painted the 6th of my Venezia series. Sometimes people ask me if I use masking fluid. My answer is no; I don't even have any. I try to leave the white of the paper for highlights, but if I lose it, that's fine. I gently scrub the paint off or use white paint later!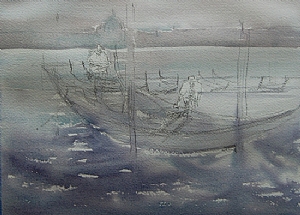 First, I work the part above the horizon line, and then on the foreground.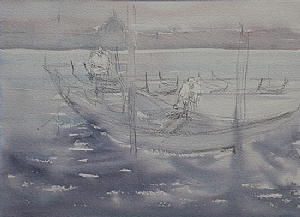 Colors look a lot lighter when the first wash is dry.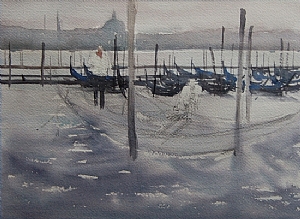 Paint in all the gondolas by trying not to look at them individually.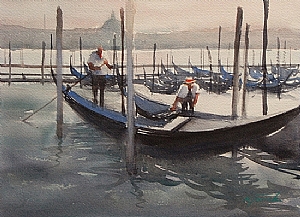 Finished.

Venezia VI

Media: Original watercolor on paper
Image Size: 8.25 x 11.5 in.
Mat/Frame: No
Purchase: Sold

Topics:
Boats
|
How I Paint
|
Italian Landscapes
|
Sold Works
|
Venice Italy
|
Waterscapes
---
---
Comments
2 Responses to Venezia VI, Venice Italy Painting
Ramesh Jhawar
via web73 months ago
Hi Keiko! Thank you so much for visiting my blog and appreciating my work.Its you who's really gifted since you paint so naturally in watercolor,which I feel is a difficult medium in which planning and control is very important.Sometimes I get bogged down when the value of the color changes after the wash dries.Experience really helps!
Liked your step by step demonstration.
Lovely painting!
Keiko Tanabe
via web73 months ago
Ramesh, I'm glad you enjoyed this little demo. Your words come from somebody who knows what he's talking about. Talk to you soon!

* indicates a required field