« Saint-Emilion, France I, French Landscape Painting | Main | San Diego 100 (#29) - Torrey Pines State Beach, California Landscape Painting »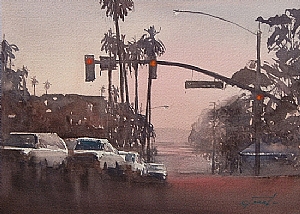 Solana Beach (SD100-28)
This is near the crossroads between Lomas Santa Fe and Old Highway 101 in the coastal community of Solana Beach.

It is getting dark. Looking down the street leading to Fletcher Cove, I see everything silhouetted against the pink/orange sky. I like the moodiness of this time of the day and certainly like painting into the light which is best done around this time.

However, our eyes have a hard time adjusting to blinding light and we may not actually see what's hidden in the shadows. There is mystery there. To paint or not to paint that mystery, that's the question when it comes to painting into the light.


San Diego 100 (#28) - Solana Beach

Media: original watercolor
Image Size: 8.25 x 11.5 in. (on 9 x 12 in. paper)
Mat/Frame: No
Purchase: Sold
Topics:
California Landscapes
|
San Diego 100 Project
|
Sold Works
---
---
Comments
2 Responses to San Diego 100 (#28) - Solana Beach, California Landscape Painting
Joanne Hall
via web72 months ago
Just checked in again to see your newest work. Great as usual

Keiko Tanabe
via web72 months ago
Hi Joanne, thanks for your visit. Hope your blogging is going well.

* indicates a required field