« Influence of Ando Hiroshige: One Hundred Views of Edo | Main | San Diego 100 (#15 & #16) - USS Midway, California Landscape Painting »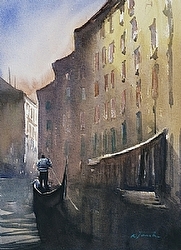 Cavalletto, Venice II
The carnival in Venice that started on February 14 is about to end. Party-goers will leave town soon and Venice will be just for its residents for a short while before travelers flock again to this famed canal city in spring. But no matter when you visit, you almost always find a moment like the one in this painting and understand Venice does live up to its name - La Serenissima (the most serene).

One of the traditional sweets for the carnival in Venice is Frittelle and Galani. Click here for recipes.



Cavalletto, Venice, Italy II

Click here for a larger image of "Caballetto, Venice II" painting.

Media: Original watercolor on paper
Image Size: 11.5 x 8.25 in (on 12 x 9 in. paper)
Mat Size: 18 x 14 in.
Purchase: Sold
Topics:
Boats
|
Italian Landscapes
|
Recipes
|
Sold Works
|
Venice Italy
|
Waterscapes
---
---
Comments
2 Responses to Cavalletto II, Venice Italy Painting
Ramesh Jhawar
via web75 months ago
Hi Keiko!I just discovered your blog and website via dailypainters.com.I just got bowled over by your beautiful paintings.You are a terrific and a gifted painter.I'll be following your blog hereafter.Cheers from India!
Keiko Tanabe
via web75 months ago
Hi Ramesh, thanks for your comment. I wish you a big success on your first show!

* indicates a required field