« San Diego 100 (#6) - Downtown, California Landscape Painting | Main | San Diego 100 (#8) - Santa Ysabel, California Landscape Painting »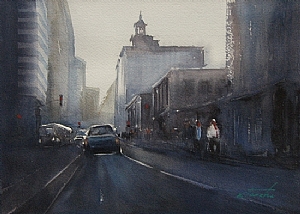 Downtown (SD100-7)
San Diego 100 (#7) - Downtown

A larger image of this painting is available on request.

Media: original watercolor
Image Size: 8.25 x 11.5 in. (on 9 x 12 in. paper)
Mat/Frame: No
Purchase: Please send me an email for availability.


City streets like this, Broadway in downtown San Diego, to be exact, are among my favorite subjects. Not always successful, but I enjoy the challenge of expressing in a painting urban energy with its vibrancy, intensity, tension and all. Here's how I paint city streets.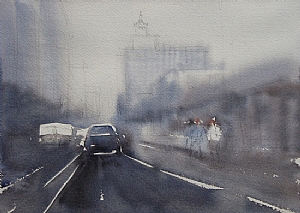 ... painting in progress
The first step of my creative process heavily relies on what a wet-on-wet technique allows me to do. After a quick drawing on paper, I basically wet the entire surface of the paper and go on dropping paints here and there so I can establish tonal values of a finished painting. Sometimes I let this first wash completely dry but sometimes I keep going in with more pigments on a moist paper, making sure I go in at the right moment. The picture (above) shows how this painting looked after the first wash. When it was dry, I worked to define bigger shapes and little details.
Topics:
Available Works
|
California Landscapes
|
How I Paint
|
San Diego 100 Project
---
---
Comments