« Blue - The Color of Provence | Main | Daily Painting - San Marco, Venice »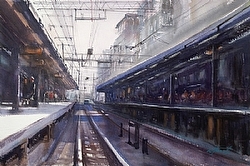 Journey Home VI
"… and I come ten thousand miles away / … and I'm out here on my own / well it was a train that took me away from here …" (lyrics from Tom Waits' Train Song)

Trains are more than just a means of transportation. In the southern Kyoto (Japan) where my family lives, short-distance trains are essential in many people's lives. They use them to go to work, to school, to a hospital, a library, a bank, grocery shopping or for whatever is on their to-do list. On the platform or inside the train, ladies shoot the breeze and students text-message. There's a man reading newspaper, a mother with a baby stroller, an old couple with backpacks on their way to a hiking trip... It is a tiny slice of life. That may be why I am so attracted to paint scenes involving trains although not very often.

In Journey Home VI, I tried to capture such a fleeting moment at a small local train station near my family's home. It is my train song. I am pleased that this painting has recently been recognized with a special award in Open Water 2008, the Canadian Society of Painters of Water Colour Annual Juried Exhibition.

- Visit my website to view more Japanese landscape paintings.
Journey Home VI
Media: Original watercolor on paper
Image Size: 14.25 x 21.5 inches
Purchase: Please contact me for more details.
Topics:
Available Works
|
Exhibitions
|
Japanese Landscapes
|
Kyoto Japan
|
My Favorite Subjects
|
Trains
---
---
Related Posts:
---
Comments