« Port of Yokohama I, Japanese Landscape Painting | Main | Fish Market, Hakodate, Japanese Landscape Paintings »

Hakodate, Hokkaido, Japan V
I am not a fortune teller but this time perhaps I was. From the breathtaking natural beauty to local delicacies to cooler weather, everything I predicted for my stay in Hakodate, Japan did happen (click to read my related blog post).
I spent the last week teaching a workshop in Hakodate, a port city in southern Hokkaido, Japan's northernmost island, for a group of about 20 watercolor painters who traveled there from all over Japan. With mountains, slopes with ocean views, historical buildings, city streets with vibrant markets, the city offers all kinds of subjects (and they are all beautiful!) and we painted in and around Hakodate to our hearts' content. Moreover, we were all touched by the kindness and hospitality of local people who literally pampered us.
My sincere thank-you to Ms. Kayo Yonezawa who planned and organized my workshop, the Hokkaido International Foundation for their generosity and cooperation, all the people in Hakodate who helped make our stay such a memorable experience, and last but not least, all my new friends who spent a week painting with me.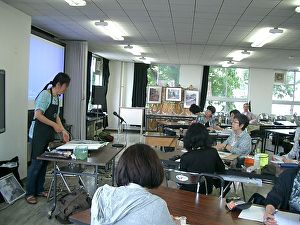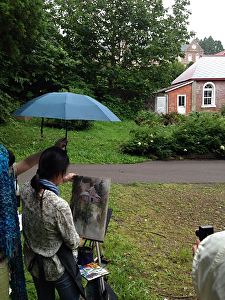 Hakodate, Hokkaido, Japan V
Media: Original watercolor on paper
Image Size: 18 x 15 inches (45 x 38 cm)
Frame/Mat: No
Purchase: Sold
- Join me on Facebook and follow my blog on NetworkedBlogs.
- Follow me on Google+.
- Visit my gallery at Daily Paintworks.
- Follow me on Twitter
- FASO Artist Websites - Easy, Professional Art Websites for Artists who Sell
Topics:
Hokkaido Japan
|
Japanese Landscapes
|
Plein Air Painting
|
Sold Works
|
Workshops
---
---
Comments