« A Fabulous Weekend in Beverly Hills | Main | Daily Painting - Roma, Italia XIV »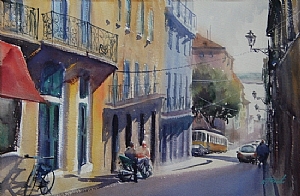 Bairro Alto, Lisbon, Portugal (14"x 21")
The first Europeans who set foot in Japan were three sailors from Portugal. That was in 1542. Then Jesuit priests came to introduce Christianity. Their influence is being felt to this day beyond religious ideas. For example, in Japanese, there are still quite a few words that have a Portuguese origin such as tempura and pan (bread). Geographically Portugal and Japan are far distant from each other but, in fact, have had a long-time relationship.

In Portugal, I felt at home, even on my first visit there. I don't know if I was somehow thinking about the connection of a time long past of the two countries. Portuguese people were friendly and polite even if I didn't speak their language. Lisbon's old-fashioned tramways running across city streets were just like what I remembered from my childhood in Japan. In one neighborhood, the smoky smell of grilled sardines was permeating the area. When I had the fish and rice, I almost forgot I was in Portugal as it was just like eating at home.

Here's an easy recipe for Portuguese-style grilled sardines (from Foodnetwork). For those who miss Portugal, this may be a temporary cure for Saudade.
Topics:
Recipes
|
Spanish/Portuguese Landscapes
|
Trains
---
---
Comments
1 Response to Saudade in Portugal
Cindy Sylvia
via ktanabe.fineartstudioonline.com34 months ago
This painting reminds me of a restaurant where I ate on the first evening of my first visit - fresh fish grilled outside on the sidewalk, right in front of me. A memory strong to this day.
* indicates a required field