My previous post on 9/17/08 "How I Paint (1) - Las Hermanas" was received well and some of you asked me to post more. Here's my second on-line demo of sorts.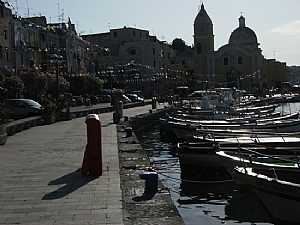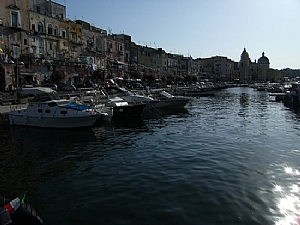 For this one, I use several photographs such as the ones above I took on Procida, a small island in Southern Italy. The photos show characteristics of the harbor pretty well, but from a design point of view, not everything is in the right place, so I know I will need to move things around a bit. How to bring out my emotions about this island and the movie filmed here will be a challenge (Read my 9/29/2008 post on Pablo Neruda for more on this). I think working from a limited palette of dominantly cool colors might be one solution. Words like "quiet," "secluded," "timeless" and even "melancholic" swirl in my head as I think about the atmosphere I want to project in this piece.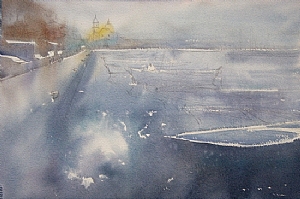 First I do a quick drawing, adding no tiny details but I make sure I mark clearly all the important shapes. Then I proceed to paint, mostly wet-in-wet, to cover the whole surface of the paper, establishing different scales of values.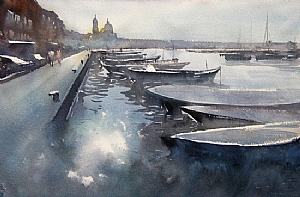 Moving from back to the front, I define the shapes of the buildings and fishing boats. I don't like this painting to look too tight, so I try to have a good balance of hard and soft edges.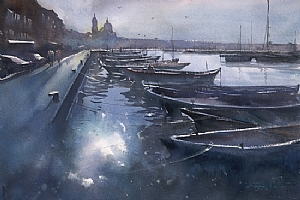 I want to warm up a little where the late afternoon sun hits, so I lay second and third washes on the buildings, boats and piers, using a brown/orange mixture while strengthening the tonal values especially in the foreground. As finishing touches, I put in little details such as masts, ropes and seagulls.

I am happy that my initial vision is in this final painting. I'd love to hear your critique!



Click here to see other paintings in my Italian Landscapes Collection.

Procida, Italy IV

Media: Original watercolor on paper

Image Size: 14.25 x 21.5 inches

Mat/Frame: No

Purchase: Sold