« Kiritappu, Hokkaido I, Japanese Seascape Painting | Main | Asakusa, Tokyo IV, Japanese Landscape Painting »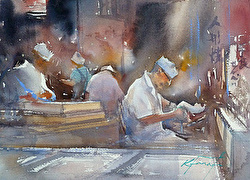 Asakusa, Tokyo, Japan III
The people in this shop are busily making ningyo-yaki, one of traditional Japanese snacks sold along Nakamise Street in Asakusa.
Asakusa is a temple town with a feel of Old Japan and is always fun… and crowded. Although it's in Tokyo, the area around here has quite a different atmosphere which gives us small glimpses of how life used to be. With the completion of Tokyo Skytree, now the world's tallest tower and not far from Asakusa, the area has seen a surge in tourism and is even more vibrant.
Asakusa, Tokyo, Japan III
A larger image of this painting is available on request.
Media: Original watercolor on paper
Image Size: 8.25 x 11.5 inches (21 x 29 cm)
Frame/Mat: No
Purchase: Sold
- Join me on Facebook and follow my blog on NetworkedBlogs.
- Follow me on Google+.
- Visit my gallery at Daily Paintworks.
- Follow me on Twitter
- FASO Artist Websites - Easy, Professional Art Websites for Artists who Sell
Topics:
Cafés & Restaurants
|
Interiors
|
Japanese Landscapes
|
Sold Works
---
---
Comments
4 Responses to Asakusa, Tokyo, Japan III, Interior Painting
Nora MacPhail
via ktanabefineart.com33 months ago
Your paintings are just gorgeous. Very bold and confident.
Happy Painting.