« Napoli II, Italian Landscape Painting | Main | Canal Grande VII, Venice Italy Painting »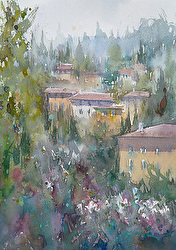 Firenze, Italy XI
Around this time of the year, Calcio Storico is the talk of the town in Florence, Italy. For several days, Piazza Santa Croce is the place of this uniquely florentine sport event. Calcio can be described as a combination of football, soccer and rugbybut it's more than a sport event; it's a huge festival. With players in historical costume, four teams representing four districts in the city play against each other until they have a winner on June 24.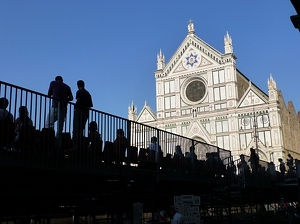 Piazza Santa Croce was packed with an enthusiastic crowd watching a calcio tournament under the sun. It's really something to be part of it but, for a painter, it's nice to escape from it all to a quieter side of Arno River and enjoy beautiful hillside, flowers and a gelato.
Firenze, Italy XI
Media: Original watercolor on paper
Image Size: 11.5 x 8.25 inches (29 x 21 cm)
Frame/Mat: No
Purchase: Sold
- Join me on Facebook and follow my blog on NetworkedBlogs.
- Follow me on Google+.
- Visit my gallery at Daily Paintworks.
- Follow me on Twitter
- FASO Artist Websites - Easy, Professional Art Websites for Artists who Sell
Topics:
Italian Landscapes
|
Sold Works
---
---
Comments