« Firenze XI, Italian Landscape Painting | Main | 2012 Salon Biennale d'Aquarelle de Rochemaure »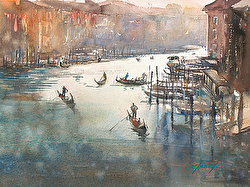 Canal Grande, Venice VII
Spend 10 minutes on top of the Rialto Bridge overlooking the Grand Canal, and you will perhaps see a dozen different kinds of boats that go up and down this city's major water corridor - waterbuses, taxis, barges, private boats of local residents and of course gondolas, etc., all navigating their way through each other.
The Grand Canal is said to follow the course of an ancient river and the area around the Rialto Bridge is the place of the first settlement that later became the city's center of trade. From what we see today, the area is still the scene of busy life in Venice.
Canal Grande, Venice, Italy VII
Media: Original watercolor on paper
Image Size: 11.5 x 15.5 inches (29 x 39 cm)
Frame/Mat: No
Purchase: Sold
- Join me on Facebook and follow my blog on NetworkedBlogs.
- Follow me on Google+.
- Visit my gallery at Daily Paintworks.
- Follow me on Twitter
- FASO Artist Websites - Easy, Professional Art Websites for Artists who Sell
Topics:
Boats
|
Italian Landscapes
|
Sold Works
|
Venice Italy
|
Waterscapes
---
---
Comments
2 Responses to Canal Grande VII, Venice Italy Painting
Veny
via ktanabefineart.com33 months ago
Keiko,

nice touches. Grand Canal is a classic, but it is always great to a different version!

greetings from Veny

http://blog.artbyveny.com
http://www.artbyveny.com
Keiko Tanabe
via ktanabefineart.com33 months ago
Grazie mille, Veny, this view has been painted by numerous artists and we will continue seeing more in the future. Venice never fails to inspire and fascinate creative minds.
* indicates a required field