« San Pedro Shipyard I, California Landscape Painting | Main | Dans La Cuisine I, Interior Painting »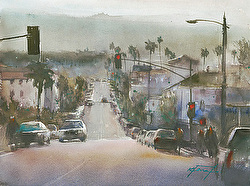 San Pedro, California IV
Artists about to launch an art career sometimes ask me what steps they should take to be a professional. Almost always my answer is, create a professional art website first - before a blog, facebook page, twitter, etc. That's what I did. I chose FineArtStudioOnline (FASO) as my website host and I know I will never regret it. If you are serious about art as a profession, the entire team of FASO is there for you in many facets on the business side of art.
FASO Featured Artists is their latest feature and I am truly honored to have my work featured there recently. In it, Brian Sherwin, an art critic and a contributing writer for FASO, describes the quality of my watercolor paintings "pleasantly haunting" and says "Keiko's paintings can be interpreted as being caught somewhere between the 'physical' and the 'spiritual'... The inspiration for these paintings may be a scene from present day but there is an underlining feeling that they are calling back to the past at the same time."
To see the entire description about my work in FASO Featured Artists, click here.
San Pedro, California IV
Click here for an enlarged view of this painting.
Media: Original watercolor on paper
Image Size: 11.5 x 15.5 inches (29 x 39 cm)
Frame/Mat: No
Purchase: Sold
- Join me on Facebook and follow my blog on NetworkedBlogs.
- Follow me on Google+.
- Visit my gallery at Daily Paintworks.
- Follow me on Twitter
- FASO Artist Websites - Easy, Professional Art Websites for Artists who Sell
Topics:
Art Marketing
|
California Landscapes
|
Poems/Quotes
|
Publications
|
Sold Works
---
---
Comments
1 Response to FASO Featured Artists
Mustafa Monzu
via ktanabe.fineartstudioonline.com33 months ago
dear Tanabe
very nice work. thank you very much

ok

Mustafa Monzu
Teresa Dotcomm, Zabed Market
Gatepar, Jamalpur--2000
Bangladesh
* indicates a required field