« San Pedro Café, Interior Painting | Main | San Pedro Shipyard I, California Landscape Painting »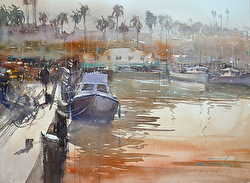 San Pedro, California II
I like visiting the waterfront area in San Pedro. A seaside promenade walk while admiring beautiful boats and cruise ships is always nice, but, for me, to see a gigantic industrial zone of the Port of Los Angeles in the background adds a sense of excitement to an otherwise tranquil scene.
There's also a working harbor for fishing vessels that I love to paint. Here's one of my attempts showing some of the hard-working fishing boats anchored for the night. The sun had just set behind the hills in the back while the fog was rolling in.... it was a golden opportunity for a painting I couldn't pass up.
San Pedro, California II
Click here for an enlarged view of this painting.
Media: Original watercolor on paper
Image Size: 11.5 x 15.5 inches (29 x 39 cm)
Frame/Mat: No
Purchase: Please send me an email for details.
- Join me on Facebook and follow my blog on NetworkedBlogs.
- Follow me on Google+.
- Visit my gallery at Daily Paintworks.
- Follow me on Twitter
- FASO Artist Websites - Easy, Professional Art Websites for Artists who Sell
Topics:
Available 12x16
|
Available Works
|
Boats
|
California Landscapes
|
Waterscapes
|
Workshops
---
---
Comments