« Los Angeles Workshop This Weekend | Main | San Pedro III, California Landscape Painting »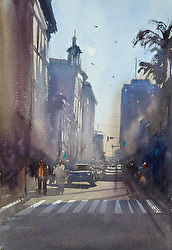 Demo at L.A. workshop
The first session of my workshop with the South Bay Watercolor Society (SBWS) just ended. I was very pleased to see a workshop room at the NWS Gallery in San Pedro (Los Angeles) filled with so much enthusiasm in the last three days.
I would like to say thank-you to my students who willingly traded the Cinco de Mayo celebrations and fun at the beach for three days of painting with me. Also my sincere thank-you goes to the workshop director of the SBWS for her tireless efforts to organize and run my workshop so smoothly.
The second session will take place, with a new group of students, at the same place, May 11-13. If you're interested in joining me next weekend, please contact Mary Higuchi of SBWS (email: maryhiguchiarts@yahoo.com; phone: 310-530-3435) for the current status of availability.
San Pedro is 20 miles south of the Los Angeles International Airport. $250 for SBWS members, $275 for non-members.
San Diego Downtown - Demo IV
Media: Original watercolor on paper
Image Size: 20 x 14 inches (51 x 36 cm)
Frame/Mat: No
Purchase: Sold
- Join me on Facebook and follow my blog on NetworkedBlogs.
- Follow me on Google+.
- Visit my gallery at Daily Paintworks.
- Follow me on Twitter
- FASO Artist Websites - Easy, Professional Art Websites for Artists who Sell
Topics:
California Landscapes
|
Sold Works
|
Workshops
---
---
Comments