« Los Angeles Workshop Update | Main | San Pedro Café, Interior Painting »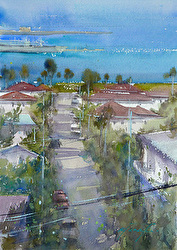 San Pedro, California III
A panoramic view from a hilltop that overlooks the Bay of San Pedro was marvelous. I was there recently and made this quick sketch. From there, one can grasp the sheer size of the Ports of Los Angeles and Long Beach instantly. Both ports are located within the bay and together handle cargo traffic that is perhaps the busiest in the U.S.
Reading some history of this seaside community, I learned that the bay was once called "Bahia de los Fumos (Bay of Smokes)." I was intrigued to find out that the name was chosen by Juan Rodriguez Cabrillo, a Portuguese explorer and the first navigator from Europe to the California coast. When Cabrillo reached San Pedro in 1542, he saw smoke on the hill rising from the fires set by the Indians as a hunting method. He wouldn't believe how much the landscape around here has changed since that time.
San Pedro, California III
A larger image of this painting is available on request.
Media: Original watercolor on paper
Image Size: 11.5 x 8.25 inches (29 x 21cm)
Frame/Mat: No
Purchase: Please send me an email for details.
- Join me on Facebook and follow my blog on NetworkedBlogs.
- Follow me on Google+.
- Visit my gallery at Daily Paintworks.
- Follow me on Twitter
- FASO Artist Websites - Easy, Professional Art Websites for Artists who Sell
Topics:
Available 9x12
|
Available Works
|
California Landscapes
---
---
Comments