« San Pedro III, California Landscape Painting | Main | San Pedro II, California Landscape Painting »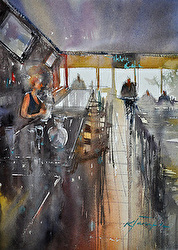 San Pedro Café I
Six or seven hours you typically spend in a day in a painting workshop can be pretty intense and you feel exhausted when it ends. In all of my previous workshops, almost everyone I taught was such a hard-working participant some of them even wanted to work through lunchtime. With or without the "no pain, no gain" mentality, I believe it's mostly a drive from within and everyone comes away with a good kind of pain. Spending several days in a room full of enthusiam and with those who share passion for the same thing (in my case, that is watercolor painting) is both rewarding and inspiring. And a big plus is that we naturally develop a sense of cordial camaraderie by the end of a day.
After a full day at work, there's nothing like going to a cozy café for a little social time to talk about our work or just get to know each other on a more personal level. Recently, after another day of workshop, I was treated to a casual dinner in this café by some of my students, and I really enjoyed the lovely moments we had.
Incidentally, Mother's day is just around the corner. If you usually send your mom (or a mother figure) flowers or a card, why not take her out to a friendly neighborhood café for a nice brunch this year? Unlike any other job, hers never ends - she's got the toughest job in the world.
San Pedro Café, California I
Media: Original watercolor on paper
Image Size: 11.5 x 8.25 inches (29 x 21 cm)
Frame/Mat: No
Purchase: Sold
- Join me on Facebook and follow my blog on NetworkedBlogs.
- Follow me on Google+.
- Visit my gallery at Daily Paintworks.
- Follow me on Twitter
- FASO Artist Websites - Easy, Professional Art Websites for Artists who Sell
Topics:
Cafés & Restaurants
|
Interiors
|
Sold Works
|
Workshops
---
---
Comments