« Springtime in Paris, Paris Café Painting | Main | La Rochelle I, French Landscape Painting »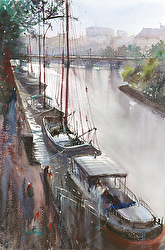 La Seine, Paris V
Cities like Paris seem to have such charm that they make you dream of things both ordinary and extraordinary. For instance, thinking of Paris makes me dream of strolling down a street with a baguette in hand or living on a luxurious houseboat on the Seine.
In Paris I always enjoy walking along the river banks to see all the boats, especially the ones with their owners living inside. What a life it must be to wake up to a view of the Eiffel Tower and be able to take your house out to sea!
La Seine, Paris V

Click here for an enlarged view of this painting.
Media: Original watercolor on paper
Image Size: 21.5 x 14.25 inches (54.5 x 36 cm)
Frame/Mat: No
Purchase: Sold
- Join me on Facebook and follow my blog on NetworkedBlogs.
- Follow me on Google+.
- Visit my gallery at Daily Paintworks.
- Follow me on Twitter
- FASO Artist Websites - Easy, Professional Art Websites for Artists who Sell
Topics:
Boats
|
Bridges
|
French Landscapes
|
Paris France
|
Sold Works
|
Waterscapes
---
---
Comments