« SouthwestArt Magazine Watercolor Portfolio | Main | Have You Googled Your Name Lately? »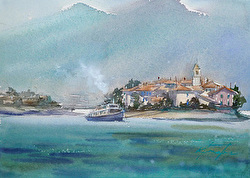 Lago Maggiore, Italy IV
Isola dei Pescatori is an island on Lake Maggiore and easy to get to from the town of Stresa. It is so small, about 380 meters by 100 meters, we can survey its entire length in a few seconds as our boat approaches the island.
As its name implies, there used to be a community of fishermen here. Compared to nearby islands known for elaborate gardens or a baroque palace, on Isola dei Pescatori, it is still possible to feel traditional way of life from the past. Although we may see more tourists walking on narrow streets on the island today, old fishing boats left on the shore suggest their traditional occupation is still alive. Such a charming island on a beautiful lake with an alpine backdrop - the setting is almost like a fairy tale. Click here to see another painting of this island.
Lago Maggiore, Italy IV
Media: Original watercolor on paper
Image Size: 8.25 x 11.5 inches (21 x 29 cm)
Frame/Mat: No
Purchase: Sold
- Join me on Facebook and follow my blog on NetworkedBlogs.
- Follow me on Google+.
- Visit my gallery at Daily Paintworks.
- Follow me on Twitter
- FASO Artist Websites - Easy, Professional Art Websites for Artists who Sell
Topics:
Boats
|
Italian Landscapes
|
Sold Works
|
Waterscapes
---
---
Comments