I am pleased to be included as one of the 10 watercolor artists to be featured in Southwest Art magazine (April, 2012).
In the latest issue, the magazine focuses on artists working in mediums other than oil, which is predominantly the choice of medium to be considered by shows and galleries across the U.S. It is quite an honor for me to be among the 10 watercolor artists who "capture the world in a demanding medium where - unlike oil paint - second chances are rarely available," as noted by the magazine editor.
Nine other artists included in the watercolor portfolio are Stephen Quiller, Joseph Alleman, Don Weller, Dick Cole, Sueellen Ross, Tom Noble, Cathy Goodale, Carolyn Lord and Rance Jones.
The magazine is available in bookstores and online.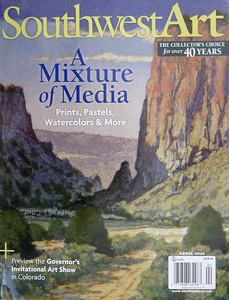 Southwest Art (April 2012) cover and inside (page 103)
Aix-en-Provence, France III

Click here for an enlarged view of this painting.
Media: Original watercolor on paper
Image Size: 14.25 x 21.5 inches (36 x 54.5 cm)
- Join me on Facebook and follow my blog on NetworkedBlogs.
- Follow me on Google+.
- Visit my gallery at Daily Paintworks.
- Follow me on Twitter
- FASO Artist Websites - Easy, Professional Art Websites for Artists who Sell