« My Workshop in Dallas, Texas | Main | SouthwestArt Magazine Watercolor Portfolio »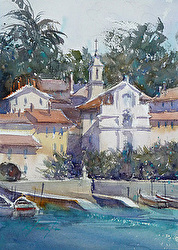 Lago Maggiore, Italy III
I was looking out the window from a train into Northern Italy when I had a glimpse of the picturesque town of Stresa by Lake Maggiore. I remember the amazing colors of blue green water as a backdrop of red, sun-lit roofs of the houses and lush green landscape there. From the fast-moving train I was able to enjoy the almost dream-like view for only a few seconds, but the image was so ingrained in my mind I was determined to get off a train there if I ever had another chance.
A few years later, very unexpectedly my wish came true and I did have an opportunity of returning to the Lake District in Italy. I went to Stresa as I had planned, and even ventured out further to visit Isola dei Pescatori (Fishermen's Island), one of the islands on the lake...
Lago Maggiore, Italy III (Isola dei Pescatori)

Click here for an enlarged view of this painting.
Media: Original watercolor on paper
Image Size: 11.5 x 8.25 inches (29 x 21 cm)
Frame/Mat: No
Purchase: Please send me an email for details.
- Join me on Facebook and follow my blog on NetworkedBlogs.
- Follow me on Google+.
- Visit my gallery at Daily Paintworks.
- Follow me on Twitter
- FASO Artist Websites - Easy, Professional Art Websites for Artists who Sell
Topics:
Available 9x12
|
Available Works
|
Boats
|
Italian Landscapes
|
Waterscapes
---
---
Comments
2 Responses to Lago Maggiore III, Italian Landscape Painting
Steve and Keiko Liewer
via ktanabe.fineartstudioonline.com37 months ago
Thanks for posting this beautiful painting of Lago Maggiore, Keiko-san! The colors and composition bring back wonderful memories for us. We have good friends who live on Lago Maggiore, and we were fortunate to visit there several times during our time in Europe. Much success to you!
Keiko Tanabe
via ktanabe.fineartstudioonline.com37 months ago
Konnichi-wa, Steve, Keiko-san, thank you for visiting and commenting on this painting. I remember you telling me about your trips to Lake Maggiore - I'm glad this painting reminded you of the good times you had there.
* indicates a required field