« Japan - One Year Later | Main | My Workshop in Dallas, Texas »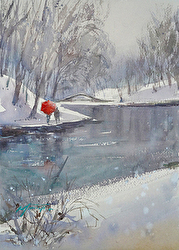 White Lovers, Hokkaido II
For many people, last month's Valentine's Day may be a thing of the past. However, in some Asian countries, the whole thing doesn't really end until March 14, which is called White Day. In Japan, for example, it is expected that you know the unwritten rules: if you're a man and received chocolate from a woman on February 14, you are supposed to reciprocate one month later by giving her something equally nice or better. I think it's safe to say the overall tone of this practice is fairly light-hearted, which is enjoyed more like a game by most people.
Depicted in today's painting are some of many small islands on Lake Oonuma in Hokkaido, Japan. These islands are all connected by bridges and they look beautiful especially when they are covered by pure-white snow. Click here to see another painting "White Lovers I" and read related post.
"Go to the truth beyond the mind. Love is the bridge." - Stephen Levine
White Lovers, Hokkaido, Japan II
Media: Original watercolor on paper
Image Size: 11.5 x 8.25 inches (29 x 21 cm)
Frame/Mat: No
Purchase: Sold
- Join me on Facebook and follow my blog on NetworkedBlogs.
- Follow me on Google+.
- Visit my gallery at Daily Paintworks.
- Follow me on Twitter
- FASO Artist Websites - Easy, Professional Art Websites for Artists who Sell
Topics:
Bridges
|
Japanese Landscapes
|
Poems/Quotes
|
Snowscapes
|
Sold Works
---
---
Comments