« The Second Annual Scottsdale Salon of Fine Art | Main | 2ème Salon International de l'Aquarelle 2012 »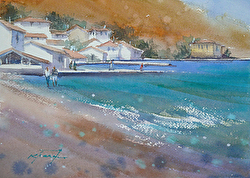 Bozcaada, Turkey I
When we travel and live without routine for an extended period of time, things that were enjoyable at the beginning of the trip can be felt more as a nuisance or stress. This can happen to anyone including the most adventurous type, and a remedy may be a 'vacation' from your travel.
A small island of Bozcaada seemed like a perfect place for that - just to relax without worrying about anything that's associated with day-to-day hustle of traveling. One of the two Turkish islands in the Aegean Sea, Bozcaada has a long and tumultuous history but now it is a peaceful, laid-back place, popular mainly with Turkish visitors.
Bozcaada, Turkey I

Click here for an enlarged view of this painting.
Media: Original watercolor on paper
Image Size: 8.25 x 11.5 inches (21 x 29 cm)
Frame/Mat: No
Purchase: Sold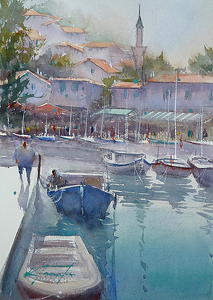 Bozcaada, Turkey II
Bozcaada, Turkey II

Media: Original watercolor on paper
Image Size: 11.5 x 8.25 inches (29 x 21 cm)
Frame/Mat: No
Purchase: Sold
- Join me on Facebook and follow my blog on NetworkedBlogs.
- Follow me on Google+.
- Visit my gallery at Daily Paintworks.
- Follow me on Twitter
- FASO Artist Websites - Easy, Professional Art Websites for Artists who Sell
Topics:
Boats
|
Cafés & Restaurants
|
Sold Works
|
Turkish Landscapes
|
Waterscapes
---
---
Comments
2 Responses to Paintings of Bozcaada, Turkey
Ellene Breedlove Davis
via ktanabefineart.com38 months ago
Hi Keiko,

Your paintings of Bozcaada, Turkey are so peaceful.

The close color harmony in Bozcaada, Turkey II is very inviting and inspirational. Feels as tho I could walk down to the dock and go sailing.


Keiko Tanabe
via ktanabe.fineartstudioonline.com38 months ago
Hello Ellene, thank you for visiting my blog and leaving such a wonderful comment. I'm so glad you enjoyed the different mood in each of these paintings!
* indicates a required field