« Refugio State Beach I, California Landscape Painting | Main | Living Like Sunflowers »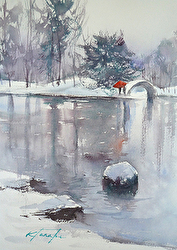 White Lovers, Hokkaido
I remember all the excitement surrounding February 14 when I was growing up in Japan. On Valentine's Day, it was customary for girls to give chocolate to boys. So, for days (or perhaps for weeks, it seemed) before the big day, candy stores were packed with girls looking for a perfect box of chocolate for their someone special. But that was not the end. Men and boys who received a gift were supposed to give women something in return on March 14, which was called White Day. I wonder if this tradition still continues today?
In today's painting is a couple walking in a snowy park near Hakodate, Hokkaido, Japan's northernmost island. Happy Valentine's Day!
White Lovers, Hokkaido, Japan I

A larger image of this painting is avaialble on request.
Media: Original watercolor on paper
Image Size: 11.5 x 8.25 inches (29 x 21 cm)
Frame/Mat: No
Purchase: Sold
- Join me on Facebook and follow my blog on NetworkedBlogs.
- Follow me on Google+.
- Visit my gallery at Daily Paintworks.
- Follow me on Twitter
- FASO Artist Websites - Easy, Professional Art Websites for Artists who Sell
Topics:
Bridges
|
Hokkaido Japan
|
Japanese Landscapes
|
Snowscapes
|
Sold Works
|
Waterscapes
---
---
Comments
2 Responses to White Lovers, Japanese Landscape Painting
Lorena
via ktanabefineart.com38 months ago
Happy Valentine's Day to you Keiko! The love shows in your paintings and in your respectful attention to all who know you! Thank you for both! White Lovers is beautiful (no surprise :)
Keiko Tanabe
via ktanabe.fineartstudioonline.com38 months ago
Thank you for your sweet comment, Lorena. Happy Valentine's Day to you, too!
* indicates a required field