« Country Road, Auvergne, French Landscape Painting | Main | North American Watercolor Artists presents "Stepping Over the Line" »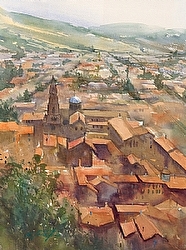 Le Puy-en-Velay, France I
Le Puy-en-Velay is situated in a setting that is uniquely beautiful and almost surreal. The town is also known as one of the four official starting points in France of Christian pilgrimage to Santiago de Compostela in northwestern Spain. Although a journey on the Camino de Santiago Compostela can be made from anywhere in Europe, I have heard that the one starting here is more interesting for pilgrims as the path passes through villages with the best-preserved Romanesque churches.
I am pleased that this painting, depicting a panoramic view of Le Puy, is featured in the latest issue of DestinAsian (Dec/Jan 2012), the premier magazine of luxury travel and fine living in the Asia Pacific region. My interview about a personal pilgrimage I made to Le Puy is also included. Click here to read the article (in pdf file).
"Life is one big road with lots of signs. So when you riding through the ruts, don't complicate your mind. Flee from hate, mischief and jealousy. Don't bury your thoughts, put your vision to reality. Wake Up and Live!" - Bob Marley, singer-songwriter
Le Puy-en-Velay, France I

Click here for an enlarged view of this painting.
Media: Original watercolor on paper
Image Size: 15.5 x 11.5 inches (39 x 29 cm)
Frame/Mat: No
Purchase: Sold
- Join me on Facebook and follow my blog on NetworkedBlogs.
- Follow me on Google+.
- Visit my gallery at Daily Paintworks.
- Follow me on Twitter
- FASO Artist Websites - Easy, Professional Art Websites for Artists who Sell
Topics:
French Landscapes
|
Poems/Quotes
|
Publications
|
Sold Works
---
---
Comments
7 Responses to Road to Santiago de Compostela
Theresa Miller
via ktanabefineart.com40 months ago
I love this painting Keiko! And Congratulations for having it featured on a magazine cover, nonetheless!

Did you know that Geneva is also an official Road to Santiago de Conpostela? How do I know this: there is a hotel just around the corner from our old house in Geneva where a group of pilgrims coming from Germany stopped to stay - they asked me for directions on how to get to the hotel when I was gardening in front of my house, I walked with them to the hotel and I asked them many questions about their pilgrimage. I found out that they walk from Germany to Spain in a span of 4 summers. Geneva was the end of the line for that particular summer. The following summer, they would fly back to Geneva to continue their pilgrimage on foot through France, on to Spain. They were all professional women who had regular jobs during the rest of the year,women about our age, who decided to commit to walking to Spain four summers in a roll. I found the story fascinating, to say the least, and thought you would like to hear my account...

If you decide to paint a series of "Road to Santiago de Compostela" you could definitely add your beautiful Geneva paintings in it! Just a thought...