« Kitchen (Seoul, Korea) I, Interior Painting | Main | Granada Guitar, Spanish Landscape Painting »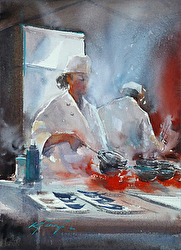 Kitchen (Seoul, Korea) II
As soon as I sat down in this restaurant, I couldn't help noticing cooking flare-ups from the partially open kitchen (Click here to see another painting of the kitchen). It didn't take long before my curiosity got the better of me and I peeked inside. One of the cooks was heating up black stone pots or what they call dolsot in Korean.
Dolsot bibimbap must be one of the most popular Korean dishes. Several kinds of colorful, tastefully-prepared ingredients neatly arranged on top of cooked rice, the dish is foremost a visual delight. When it's served in a piping hot dolsot, the sizzling sound of everything in it is so inviting. What's more, the dolsot will continue cooking, so to speak, even while we eat, often resulting in a toasty flavor of the ingredients and crispy rice on the bottom.
I attempted to create a painting where you can smell the food, hear the sound and feel the temperature - a piece that I hope is entertaining in more than one way - sort of like dolsot bibimbap. Click here for a recipe of this delicious dish (courtesy: Dolsotbibimbap.com).
Kitchen (Seoul, Korea) II

Media: Original watercolor on paper
Image Size: 11.5 x 8.25 inches (29 x 21 cm)
Frame/Mat: No
Purchase: Sold
- Join me on Facebook and follow my blog on NetworkedBlogs.
- Visit my gallery at Daily Paintworks.
- Follow me on Twitter
- FASO Artist Websites - Easy, Professional Art Websites for Artists who Sell
Topics:
Cafés & Restaurants
|
Interiors
|
Korean Landscapes
|
Recipes
|
Sold Works
---
---
Comments