« Gwanghwamun, Seoul, Korean Landscape Painting | Main | More Paintings of Seoul, Korea »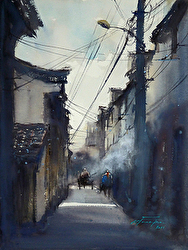 Shenao, Tonglu, China I
Our group of about 15+ watercolorists spent a few days touring and painting together in various picturesque spots in Tonglu County, China. Tonglu County is under the jurisdiction of Hangzhou City in Zhejiang Province. We were all invited artists in the 3rd Contemporary International Outstanding Watercolor Painters Nomination Exhibition that took place recently in the new Wetland Museum in Hangzhou.
Being one of the few foreign painters in the predominantly Chinese-speaking group that participated in this painting trip, I was not sure where we would stop next. But I was not worried at all because I found ample subjects to paint in every place.
Shenao is one such place. Very small but full of atmosphere and character, this historical village captivated me so much I could easily lose track of time painting on the streets. This painting that depicts typical street life in the village, was purchased by the Ye Qianyu Art Museum in Tonglu County to be placed in their permanent collection.
Shenao, Tonglu, China I

Click here for an enalrged view of this painting.
Media: Original watercolor on paper
Image Size: 16 x 12 inches (40 x 30 cm)
Purchase: Collection, Ye Qiangyu Art Museum, Tonglu County, China
- Join me on Facebook and follow my blog on NetworkedBlogs.
- Visit my gallery at Daily Paintworks.
- Follow me on Twitter
- FASO Artist Websites - Easy, Professional Art Websites for Artists who Sell
Topics:
Chinese Landscapes
|
Exhibitions
|
Sold Works
---
---
Comments