« Workshop in San Diego - Next Weekend | Main | My Solo Exhibition Next Month in San Diego »

Prague, Czec Republic II
Despite a threatening sky, streets in the heart of Prague were full of life. Here in the city's Old Town, tourists moving about with their travel guidebooks were everywhere, proving that Prague is one of the most visited cities in Europe. Many squares and alleys, surrounded by magnificent architectures, were also crowded with shoppers, diners, street performers and onlookers.
This elegant quarter in Prague has such a wonderful atmosphere I wouldn't be surprised if there was quite a large number of artists in the crowd who traveled there for new inspiration and ideas. I thought, like Rome and Paris, almost anything in this part of Prague could make an attractive painting. The hardest part may be of course to go beyond the cliché, or to find the truth behind attraction. Or, should I just paint what I loved without being too analytical?
"When the heart speaks, the mind finds it indecent to object". -- Milan Kundera, Czech-born writer and author of The Unbearable Lightness of Being
Prague, Czech Republic II

Click for an enlarged view of this painting.
Media: Original watercolor on paper
Image Size: 11.5 x 8.25 inches (29 x 21 cm)
Frame/Mat: No
Purchase: Sold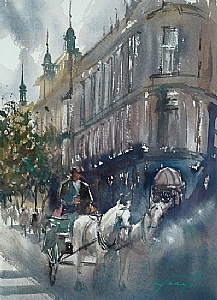 Prague, Czech Republic I
Prague, Czech Republic I

A larger image of this painting is available on request.
Media: Original watercolor on paper
Image Size: 11.5 x 8.25 inches (29 x 21 cm)
Frame/Mat: No
Purchase: Please send me an email for details.
- Join me on Facebook and follow my blog on NetworkedBlogs.
- Visit my gallery at Daily Paintworks.
- Follow me on Twitter
- FASO Artist Websites - Easy, Professional Art Websites for Artists who Sell
Topics:
Available 9x12
|
Available Works
|
Czech Landscapes
|
Horses
|
Poems/Quotes
|
Sold Works
---
---
Comments
6 Responses to Prague (Czech Republic) Paintings
Keiko Tanabe
via ktanabe.fineartstudioonline.com43 months ago
Daniel, welcome to my blog and thank you very much for your kind comment. It's such a pleasure to hear from someone so far away!