« Fanta's Café, Prague, Czech Republic | Main | Workshop in San Diego - Next Weekend »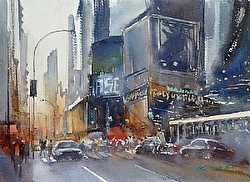 New York City I
Memories tend to fade, but we all remember exactly where we were and what we were doing ten years ago tomorrow. To some, it's been already ten years since; to others, it's only been ten years. But I think the time that has passed has taught us something important about life as we went through all kinds of emotions and feelings after 9/11.
I would like to dedicate today's painting to a Texas artist Carol Marine and her family who recently lost their home in a wildfire. I have been fortunate to be associated with Carol and her husband David through Daily Paintworks, and it was just heart-breaking when I heard the news of their losing everything in the fire.
Please email me with your bidding price (suggested bidding starts at 100USD). Bidding starts immediately and ends at midnight, September 25. The highest bidder will be notified by email on September 26. I'll donate all proceeds to the fundraising effort set up by a close friend of the Marines' so they can rebuild their life and start making memories again.
New York City I

Media: Original watercolor on paper
Image Size: 8.25 x 11.5 inches (21 x 29 cm)
Frame/Mat: No
Purchase: Auction closed/Sold
- Join me on Facebook and follow my blog on NetworkedBlogs.
- Visit my gallery at Daily Paintworks.
- Follow me on Twitter
- FASO Artist Websites - Easy, Professional Art Websites for Artists who Sell
Topics:
American Landscapes
|
Auction
|
Sold Works
---
---
Comments