« International Watercolors.com | Main | Monterey and Carmel Beach Paintings »

Yokohama Chinatown I
Recently I had the pleasure of visiting my artist friends in Yokohama, Japan. Kazuo Kasai, a former advertising executive who runs an art school there and together with our mutual friends, we had a good time talking about and sharing what we all love - watercolor painting (visit Kazuo's blog about our meeting). They gave me such a warm welcome and I left with much appreciation for their kindness and hospitality. Funny thing is, even though we met just recently through internet and in person for the first time, we bonded instantly as if we had known each other for a long time.
As a Japanese native living in San Diego, visiting Yokohama also had a special meaning to me because of the long-time sister city relationship between the two cities. Every time I go to Balboa Park, one of my favorite places to paint in San Diego, I see the monument commemorating the friendship of the two at the Japanese Garden there.
During my brief visit to Yokohama, I was reminded once again that art does bring us closer, and I am especially happy that it happened this time in Yokohama.
Yokohama Chinatown, Japan I
Click here for an enlarged view of this painting.
Media: Original watercolor on paper
Image Size: 11.5 x 8.25 inches (29 x 21 cm)
Frame/Mat: No
Purchase: Sold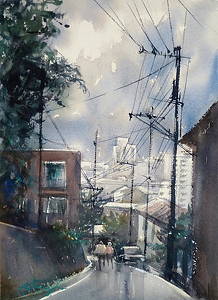 Yokohama Yamate I
Yokohama Yamate, Japan I
Media: Original watercolor on paper
Image Size: 11.5 x 8.25 inches (29 x 21 cm)
Frame/Mat: No
Purchase: Sold
- Join me on Facebook and follow my blog on NetworkedBlogs.
- Visit my gallery at Daily Paintworks.
- Follow me on Twitter
- FASO Artist Websites - Easy, Professional Art Websites for Artists who Sell
Topics:
Cafés & Restaurants
|
Japanese Landscapes
|
Sold Works
---
---
Comments