Canım İzmir (Dear Izmir):
İzmir, my sweet and dear city!
If I die far away from you one day,
May they bring me to you,
But while taking me to my grave,
May they not say of me, "He died,"
May they say, "He is sleeping." (lyrics by Dario Moreno)
I was treated to a beautiful sunset over the Aegean Sea during my recent visit to Izmir. From the top of the cliff, watching the colors of the sky change literally to the last seconds of a day, I was thinking about Dario Moreno and how he must have missed the gorgeous sunset like this when he was away from home. My Turkish friend had introduced me to this famous native son of Izmir. Born and raised here, Moreno became well-known as a singer/song-writer and attained success later in France and other countries.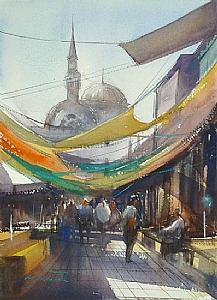 Izmir, Turkey II
Izmir, Turkey II
Click here for an enlarged view of this painting.
Media: Original watercolor on paper
Image Size: 11.5 x 8.25 inches (29 x 21 cm)
Frame/Mat: No
Purchase: Sold
Izmir, Turkey III (A View from Asansör)
Media: Original watercolor on paper
Image Size: 8.25 x 11.5 inches (21 x 29 cm)
Frame/Mat: No
Purchase: Sold
- Join me on Facebook and follow my blog on NetworkedBlogs.
- Visit my gallery at Daily Paintworks.
- Follow me on Twitter
- FASO Artist Websites - Easy, Professional Art Websites for Artists who Sell