« June 2011 Bold Brush Painting Competition | Main | Izmir Museum of Art and Sculpture »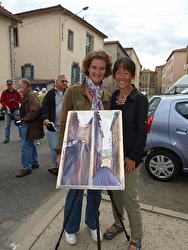 Demo on Rue Pascal, Brioude, France
Well, time flies by quickly especially when you are having a great time. The 2011 Biennial of Watercolors ended on the 23rd with much success, having welcomed more than 8,000 visitors from all over France and other countries during two weeks. The weather has been on the cooler side with more rain than usual, but everyone - artists, visitors, and volunteers who worked tirelessly every day - was very happy with the results.
As for me, after four workshops and five demonstrations (free for the public), the event was not just to exhibit my works but more about meeting people and other watercolorist friends, sharing my knowledge and painting together with them. What a wonderful experience it has been! This was my second time to participate in the event after 2009, and getting to know the town better and making more friends there this summer, saying au revoir to Brioude left a bitter-sweet feeling with me. Merci, Brioude et à bientôt!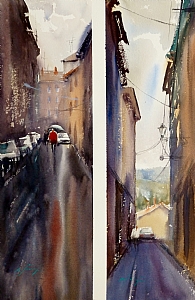 Two demo paintings done in one hour on the street of Brioude.
Rue Pascal, Brioude, France I & II
Media: Original watercolor on paper
Image Size: 21.5 x 7 inches each
Frame/Mat: No
Purchase: Sold
- Join me on Facebook and follow my blog on NetworkedBlogs.
- Visit my gallery at Daily Paintworks.
- Follow me on Twitter
- FASO Artist Websites - Easy, Professional Art Websites for Artists who Sell
Topics:
Exhibitions
|
French Landscapes
|
Sold Works
---
---
Comments
2 Responses to Merci, Brioude!
Kevin Neal
via ktanabefineart.com41 months ago
The two demo paintings on the street of Brioude were just the thing to get me kickstarted this morning. Thanks for the inspiration.
Keiko Tanabe
via ktanabe.fineartstudioonline.com41 months ago
Kevin, I am glad to hear that. Thank you for visiting my blog. Happy painting!
* indicates a required field