« 2011 Biennale d'Aquarelle in Brioude, France | Main | June 2011 Bold Brush Painting Competition »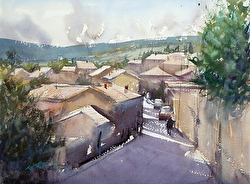 Brioude, View from Terrace
I had a wonderful time for two days this week, on July 11 and 12, with my students who attended my watercolor workshop. During the Biennale d'Aquarelle in Brioude, France where I am currently exhibiting my paintings, I offer two 2-day classes (the next one will be July 18 and 19).
The focus of my courses is "how to capture light and atmosphere in watercolor painting." My students traveled from various parts of France and other European countries and, boy, did they work hard! Needless to say, their enthusiasm was very inspirational for me - I did two demos a day; a lot of questions were asked and answered; and we all became friends by the end of a day.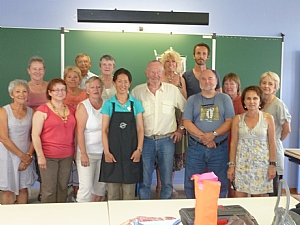 With my students, 12 July, Brioude, France
Everyone worked hard and the workshop room was filled with positive energy and laughter!
View from Terrace, Bridoude, France I
Media: Original watercolor on paper
Image Size: 11.5 x 15.5 inches (29 x 39 cm)
Topics:
Exhibitions
|
French Landscapes
|
Workshops
---
---
Comments