« La Seine, Paris I, French Landscape Painting | Main | La Seine, Paris II (Le Petit Pont), French Landscape Painting »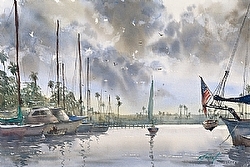 Oceanside Harbor, San Diego I
I was mentioned or featured in several art publications recently. Professional Artist magazine just published an article on how artists supported Japanese disaster relief efforts by raising money from their art ("Artists Raise $30,000 Online for Japanese Tsunami Survivors" by Byron Kerman, July/August 2011 issue). I was interviewed for the article and my artwork is also featured in it.
I was delighted that San Diego Talent Magazine did a feature article on me last month. I was also pleased to see my name come up in one of the recent posts, entitled "Your favourite watercolour painters," in Katherine Tyrrell's popular Making a Mark blog.
I'd like to take this opportunity to express my appreciation to those who chose to write about me or my work (My special thank-you to Byron and Katherine!).
Oceanside Harbor, San Diego, California I

Click here for an enlarged view of this painting.
Media: Original watercolor on paper
Image Size: 14.25 x 21.5 inches (36 x 54.5 cm)
Frame/Mat: No
Purchase: Donated
Topics:
Boats
|
California Landscapes
|
Publications
|
Sold Works
|
Waterscapes
---
---
Comments
2 Responses to Recent Media Coverage
Karen Aschenbrenner
via ktanabefineart.com47 months ago
This is fantastic Keiko! What you give comes back. All the best, Karen
Keiko Tanabe
via ktanabe.fineartstudioonline.com47 months ago
Hi Karen, thank you for visiting my blog and leaving a kind comment. I hope all is well with you.
* indicates a required field