« American Watercolor Society 144th Annual International Exhibition | Main | Cours Mirabeau, Aix-en-Provence, French Landscape Paintings »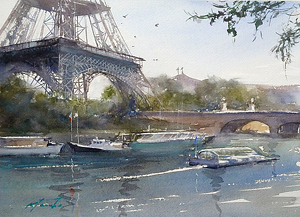 Eiffel Tower, Paris II
You say it's an absolute beauty and one of the first things you must see in Paris? Rather, you are of the opinion that it's such an eyesore you can't stand it? There seems to be two kinds of visitors to Paris when it comes to their opinions about the Eiffel Tower. Whether you take one side over the other (or fall somewhere in between), wouldn't you agree that Paris wouldn't be the same without it?
Weighing 10,100 tons, soaring 324 meters tall, it is a massive structure, and I must say that getting an up-close-and-personal look at the 250,000-square-meter surface of the fine iron lattice work is awe-inspiring.
"For my part I believe that the Tower will possess its own beauty. Are we to believe that because one is an engineer, one is not preoccupied by beauty in one's constructions, or that one does not seek to create elegance as well as solidity and durability? Is it not true that the very conditions which give strength also conform to the hidden rules of harmony? " -- Gustave Eiffel, designer of the Eiffel Tower
Eiffel Tower, Paris II

Media: Original watercolor on paper
Image Size: 8.25 x 11.5 inches (21 x 29 cm)
Frame/Mat: No
Purchase: Sold
Click here to see more Paris France paintings.
Topics:
Boats
|
Bridges
|
French Landscapes
|
Paris France
|
Poems/Quotes
|
Sold Works
|
Waterscapes
---
---
Comments
4 Responses to Eiffel Tower, Paris II - French Landscape Painting
ray
via ktanabe.fineartstudioonline.com41 months ago
I have enjoyed your beautiful paintings and use you as my inspiration to do watercolor. I thank you for work. I wished I could take your classes . Hve you visited Iran yet ...it offers so much to see and paint.