« "Gyotaku Inviron 6" for Japan Relief Auction by Mark E. Mehaffey | Main | Paris (#29) - Le Marais, French Landscape Painting »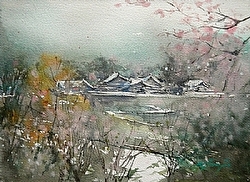 Sakura III
takasago no
onoe no sakura
sakinikeri
toyama no kasumi
tatazu mo aranan

On the upper slopes
of steep hills
the cherries have bloomed.
O mists of the near foothills,
please do not rise in the way!
(by Masafusa Ooe, 1041-1111)


Sakura (cherry blossoms) is probably the most beloved flower among the Japanese. Often planted en masse, the sakura trees, when their flowers are in full bloom, look like soft, pink clouds. The flowers won't last a long time and the petals are fragile, so knowing when and where to go to view sakura each spring is an important event for the Japanese. It depends on where you are located in Japan, but the time frame is usually short - only a couple of weeks in April. Their favorite hanami (flower-viewing) season is almost here.
Sakura III

Click here for an enlarged view.
Media: Original watercolor on paper
Image Size: 8.25 x 11.5 inches (21 x 29 cm)
Frame/Mat: No
Purchase: Sold via Daily Paintworks Help Japan Challenge Auction
Topics:
Auction
|
Japanese Landscapes
|
Poems/Quotes
|
Sold Works
---
---
Comments
8 Responses to Sakura III, Japanese Landscape Painting
Rhonda
via ktanabefineart.com49 months ago
This is so beautiful! I just heard that the cherry blossoms are now in bloom in Washington, DC (a gift from the Japanese Emperor 99 years ago).