« Gondolier X, Venice Italy Painting | Main | Retour de la série «Paris Café» »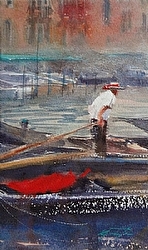 Gondolier XI
It's time for carnevale in Venice. This year's festivities have already begun last month and will end on March 8 with a huge party to end all parties. People walk on the streets, wearing costumes and traditional Venetian masks. There are extravagant balls, concerts, parades on canals. This is a big winter celebration, 40 days before Easter, when Venice transforms itself into a mysterious world of elegance and magic.
Gondolier, Venice, Italy XI

Click here for an enlarged view.
Media: Original watercolor on paper
Image Size: 10 x 6 inches (25 x 15 cm)
Mat: Yes (15 x 10 inches; white)
Frame: No
Purchase: Sold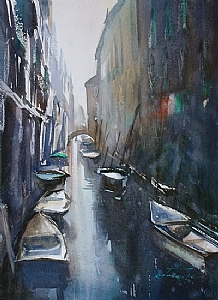 Venice Reflections X
Venice Reflections X
Media: Original watercolor on paper
Image Size: 11.5 x 8.25 inches (29 x 21 cm)
Mat/Frame: No
Purchase: Sold
Topics:
Boats
|
Bridges
|
Italian Landscapes
|
Sold Works
|
Venice Italy
|
Waterscapes
---
---
Comments
2 Responses to Carnevale in Venice
Gianluca Cremonesi
via ktanabefineart.com46 months ago
Dear Keiko san, this are stunning pieces, I spent one year in Venice serving in the Army, so I know the city very well, you captured the exact mood and feeling you can have there!

My compliments.
Mata ne!
Keiko Tanabe
via ktanabefineart.com45 months ago
Gianluca, wonderful to hear from you. Thank you very much for your kind words about my Venice paintings. Please come and visit my blog again as I continue to upload new paintings. Happy painting!
* indicates a required field