It's time for carnevale in Venice. This year's festivities have already begun last month and will end on March 8 with a huge party to end all parties. People walk on the streets, wearing costumes and traditional Venetian masks. There are extravagant balls, concerts, parades on canals. This is a big winter celebration, 40 days before Easter, when Venice transforms itself into a mysterious world of elegance and magic.
Gondolier, Venice, Italy XI

Click here for an enlarged view.
Media: Original watercolor on paper
Image Size: 10 x 6 inches (25 x 15 cm)
Mat: Yes (15 x 10 inches; white)
Frame: No
Purchase: Sold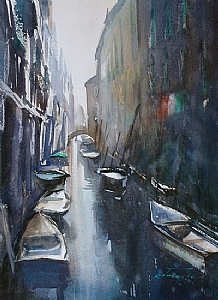 Venice Reflections X
Venice Reflections X
Media: Original watercolor on paper
Image Size: 11.5 x 8.25 inches (29 x 21 cm)
Mat/Frame: No
Purchase: Sold