« Santa Fe Depot, San Diego Paintings | Main | Little Italy Sunset, San Diego VIII, California Landscape Painting »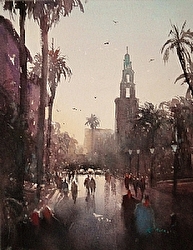 Balboa Park Sunset, San Diego I
With more than a dozen museums, several gardens, the zoo, etc., Balboa Park is America's largest urban cultural park. It has so much to offer that during the day El Prado, a wide promenade that runs through the middle of it, can be really crowded.

When the sun goes down and the crowd begins to thin out, I think that is the most magical time of the day. Constantly changing but slowly fading, the soft light coming from the western end of El Prado reveals the beautiful silhouettes of the California Bell Tower and palm trees.

Working with a limited palette consisting of ultramarine blue, brown madder, quinacridone gold, cobalt blue, turquoise, cadminium red, and a little bit of white really worked well to create a mood of the moment that I so cherish at my favorite place in San Diego.
Balboa Park Sunset, San Diego I

Click here for an enlarged view.
Media: Original watercolor on paper
Image Size: 13.5 x 10.5 inches (34 x 27 cm)
Mat: Yes (20 x 16 inches; white)
Frame: No
Purchase: Sold
Topics:
California Landscapes
|
Sold Works
---
---
Comments
6 Responses to Balboa Park Sunset, San Diego I, California Landscape Painting
Eugen Chisnicean
via ktanabefineart.com49 months ago
Very atmospheric painting of the wonderful place,you live! Great work, Keiko!!